Morata content with bench role if it means Spain go all the way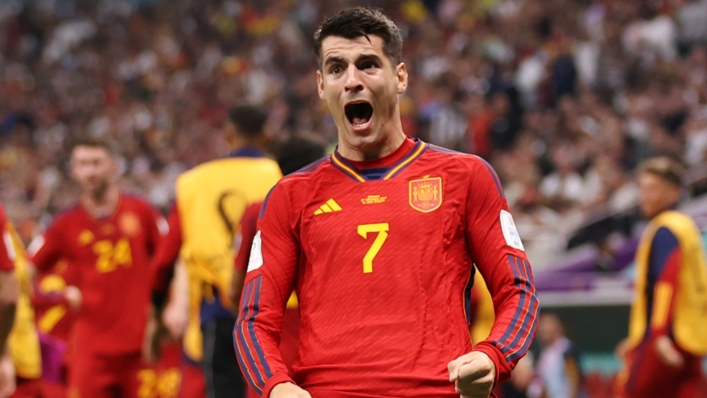 Alvaro Morata would be content to start each of Spain's World Cup games on the substitutes' bench if it meant La Roja won the tournament.
Atletico Madrid striker Morata has come off the bench in both of his country's games in Qatar so far, scoring in the win over Costa Rica and the draw with Germany.
Those four points mean Luis Enrique's side need only a point against Japan on Thursday to qualify for the knockout stage.
Should he not be selected in the starting XI for that match, Morata insists he will have no complaints and will gladly cheer his team-mates on.
"At club level you've got more time to train, more space, and obviously, you want to play," he told Onda Cero. "But here, I can assure you that it doesn't bother to me at all [to be a substitute].
"In fact, if I had to choose coming on from the bench in all the games, or even not playing, but the team wins the World Cup, I would sign up for it. I would cheer the team on from the bench.
"In the end, we have a goal, a dream, and all of us feel important. Everyone is important in different ways. All of us are important and everyone has his function.
"Many players who don't play can be the ones who give more to the group. Historically, it has been like that in the national team.
"I always give an example to the people that want to play but don't play as much as they want. They have to look at Pepe Reina and Iker Casillas.
"They were here [previous World Cups] without playing, but they always gave their best, so they are examples to follow, and they got the credit that they deserved, whether they played or not."
Morata is Spain's joint-fifth highest scorer of all time with 29 goals, yet he has often been criticised by supporters.
The 30-year-old admits he has spent too much time listening to other people's opinions of him, but says his own criticism has been the most damaging.
"I enjoy doing my job," he added. "People can call me crazy, but I have spent maybe eight or nine years of a career that can last 15, thinking about what, how, and when people say.
"A person has to be happy as he is, assume the good and bad things, and don't let anyone take away your happiness.
"If there is one thing I regret in my professional career and in my life, it is having been my own worst enemy many times."
Tags