Thuram 'proud' of brother Khephren after France call-up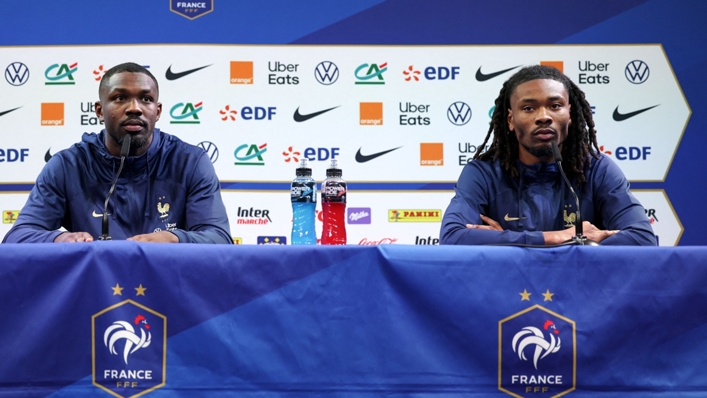 Marcus and Khephren Thuram have expressed pride at their joint call-up to the France squad.
The brothers faced the media at France's Clairefontaine base ahead of Friday's Euro 2024 qualifier against the Netherlands.
The pair follow in the footsteps of the Hernandez brothers, Lucas and Theo, in becoming the latest siblings to be called up by coach Didier Deschamps.
And Marcus, who starred at the 2022 World Cup, explained he was actually prouder of Khephren's debut call-up than this own.
"I learned about his selection at the same time as him," the Borussia Monchengladbach forward said. "I called him immediately. I was more proud for him than for me.
"He is a very serious person, he impresses me, and he will still improve."
The son of 1998 World Cup winner Lilian as well as Marcus' brother, Khephren is keen to forge his own reputation.
He said: "I haven't been in anyone's shadow. It's a source of pride and happiness to have a brother like Marcus. He is a very jovial person, and he has confidence in his qualities.
"I know he knows he can reach much, much higher, and he is working for that."
Ahead of the Netherlands game, Kylian Mbappe was named as the new France captain following the retirement of Hugo Lloris after the World Cup.
It is a decision team-mate Marcus supported as he said: "He's a charismatic leader on and off the pitch. He can be a unifying captain."
The Thuram brothers both feature in an exciting new generation for France, with Marcus explaining: "We are players with a lot of self-confidence. We don't ask ourselves unnecessary questions when we enter the field.
"Randal Kolo Muani was not supposed to be at the World Cup, and he came into the final and almost won it. This is a reckless generation that is not afraid of much."
Marcus is expected to leave Gladbach when his contract expires at the end of the season, with Lilian set to have a say on his next move.
"He has the place of a dad, but he knows a little about it," the forward said. "His word carries weight, I'm happy to have someone like him by my side.
"He will have a major place in the choices to come."
Could Marcus and Khephren play together for club as well as country then?
"We all have different careers," Marcus answered. "If we have to play together in a club, it will be with pleasure, but it's not an obsession."
Khephren added: "It's perfect to have him next to me, because I let him answer when I don't know what to say."
Tags