Mahomes not blaming Chiefs defence for turnover troubles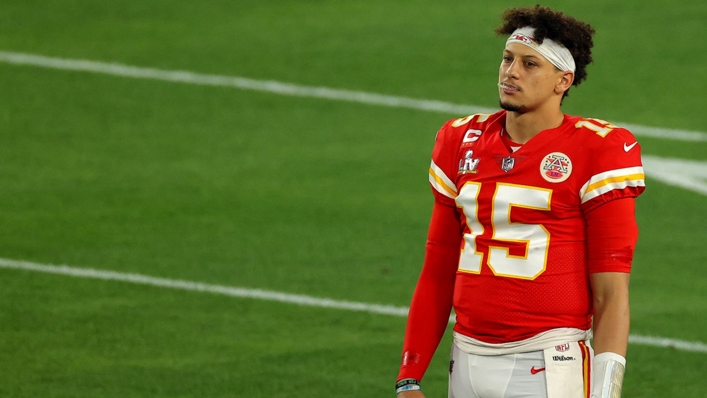 Kansas City Chiefs star Patrick Mahomes is not pointing the finger at the team's defence for their turnover troubles in the NFL.
The turnover-prone Chiefs were beaten 38-20 by the Buffalo Bills last week after a series of self-inflicted mistakes on Sunday.
Mahomes and the Chiefs turned the ball over four times in the AFC title game rematch, with the quarterback intercepted on back-to-back possessions in the third quarter.
Micah Hyde took the first of those 26 yards for a touchdown after plucking a tipped ball out of the air – it was just the second pick-six of Mahomes' career after Week 11 of the 2018 season.
As the Chiefs (2-3) gear up for Sunday's clash with the Washington Football Team (2-3), Mahomes discussed Kansas City's struggles.
"Not at all," Super Bowl champion Mahomes – the NFL MVP in 2018 – told reporters on Wednesday when asked if the team's turnovers were due to their defensive problems.
"We try to score every single time we touch the football. That's how it's been my entire career here, and that was the precedent that was set before I even started here.
"That's kind of how I have my mindset going into every single game is that, when we get an opportunity to go out there and have success and be successful, we have to capitalise on that.
"It has nothing to do with whatever is happening on the other side of the ball. It's just our job as an offense on this team."
Kansas City's defeat to Buffalo was just the second time the Chiefs have lost by double digits with Mahomes at quarterback, per Stats Perform. The other was Super Bowl LV against the Tampa Bay Buccaneers earlier this year.
The Chiefs have allowed the most points per game in the NFL (32.6), while Washington have allowed the second most (31.0). The most points allowed in the Super Bowl era is 33.3 per game by the 1981 Baltimore Colts.
Kansas City own a seven-game winning streak against Washington dating back to the 1992 season. Only two active winning streaks in the NFL started at an earlier date – the Green Bay Packers over the Las Vegas Raiders back to 1990 and the Philadelphia Eagles over the New York Jets back to 1973.