Maehle magic the defining feature of Denmark's remarkable Euro 2020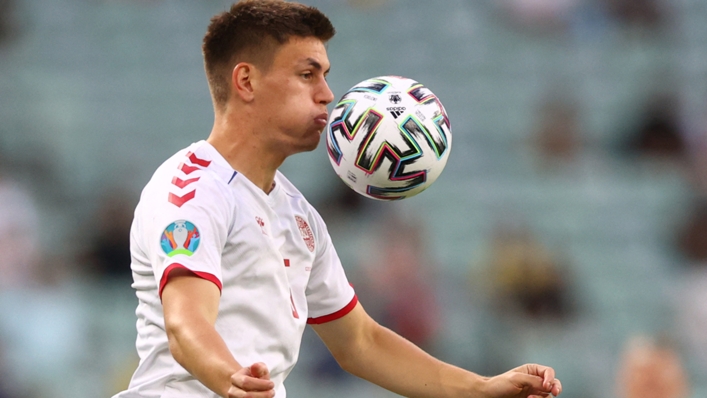 Maybe it's wishful thinking, but if Denmark could pick a moment to remember from their Euro 2020 campaign, surely this would be near the top of the list.
Toe-poke, trivela, call it what you will – Joakim Maehle's outside-of-the-foot cross for the second goal against the Czech Republic was one of the finest pieces of skill seen at these finals.
With enough pace to elude defenders but not the arriving Kasper Dolberg, curling away from Czech heads and onto the striker's foot, it was impudent expertise of the highest order.
It was also entirely in keeping with Maehle's standard of performances at this tournament. This was no fluke or Hail Mary; this was calculated brilliance by a player at the top of his game.
Maehle's form has been a bit of a subplot to Denmark's amazing run to the semi-finals. The team spirit and the tactical nous of Kasper Hjulmand have been praised at almost every turn since that awful moment when Christian Eriksen's life was in danger during their opening match with Finland. But there are individual stars to shout about, too, and Maehle most of all.
After netting the fourth goal in the decisive group win over Russia, Maehle struck a superb third in the 4-0 defeat of Wales in the previous round. Before the quarter-finals, no defender had scored more goals, taken more shots (nine) or completed more dribbles (11) than the Atalanta wing-back.
Calling him a 'defender' might sound a stretch – playing his club football at Atalanta, he is certainly prized as much for his work in the opponents' half as his own. Yet defend he does, when the need arises: against Wales, no Denmark player made more tackles (two) or interceptions (three), while the Czech Republic's Lukas Masopust was hauled off at half-time of Saturday's quarter-final after touching the ball just 15 times, his playground on the right-hand side locked down by Denmark's marauding left-back.
By the end of their 2-1 win, a result that made Denmark the first team to reach the semi-finals of the Euros after losing twice in the group stage, Maehle had misplaced just three passes in total and completed 91 per cent in the Czech Republic half, the most of any starting player for Hjulmand's side. He should have had a second goal, too, Tomas Vaclik saving well at his near post to deny Maehle from his latest surge into the box.
Denmark can now look forward to a semi-final, their first at a major tournament since that shock trophy win in 1992. They have scored 11 times at these finals, their best return at either the World Cup or European Championship. Maehle has been directly involved in three of them, and each one has been a real moment of magic.
What happened to Eriksen has not been forgotten, and nor should it. The actions of the medical staff and the dignity of Denmark's players, coaches and fans will deserve praise long after this tournament is over.
But mostly, Euro 2020 must be about the football: about hopes and dreams, surprise results, and outstanding performances. In that regard, Maehle has delivered more than most.
Tags