Luis Enrique 'had the feeling' Spain were going to score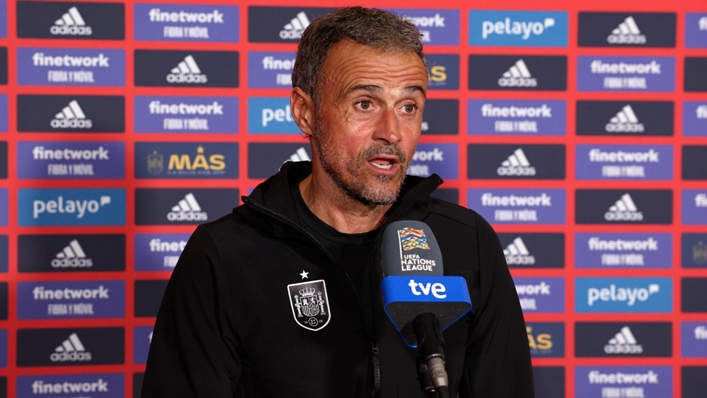 Head coach Luis Enrique "had the feeling that the goal was going to come" for Spain as a late Alvaro Morata strike earned victory over Portugal to reach next year's Nations League Finals.
Spain needed to win in Braga if they were to top Group A2 above Portugal, but the hosts had the better of the first-half opportunities.
However, substitutions from Luis Enrique turned the game in Spain's favour, before they found a dramatic 88th-minute winner when Morata smashed in from Nico Williams' downwards header.
Luis Enrique claims he knew his team were going to score, telling reporters: "It is a wonderful sport in which victory is the best antidote for any depression or state of sadness.
"Portugal are a top team. In the first half, I insisted a lot, perhaps too much, on having the ball, and we did. It is clear that we prefer to make the passes in the opposing half.
"The first half is necessary to show that the ball is ours; in the second half, I had the feeling that the goal was going to come.
"We repeat reaching the final four, and it is a great joy."
The important victory will no doubt stir hopes of Spain repeating their 2010 heroics, when Vicente del Bosque led the nation to their first and only World Cup crown.
The 2022 tournament in Qatar is fast approaching, and Luis Enrique faces tough decisions in picking his final squad.
"It is wonderful to train these players," he told reporters.
"The list is not 26; there are 40 who can come to the World Cup. It is a pleasure to train players of such quality.
"The pity is that players are going to stay out [of the final squad]. It changes continuously. It will be difficult for me."
Tags