Nunez: Liverpool 'cannot afford to relax' after thrashing Manchester United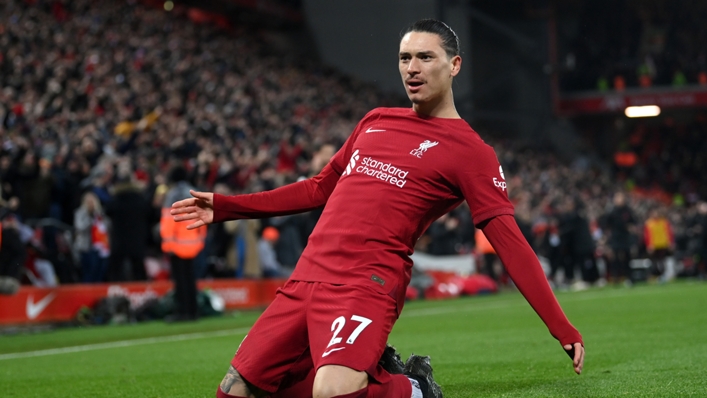 Darwin Nunez says Liverpool "can't afford to relax" after their 7-0 win against Manchester United, and must attack their next game against Bournemouth "like lions".
Jurgen Klopp's men have had a turbulent season but a recent resurgence saw them thrash their old rivals at Anfield last week, putting them back in the race for the top four in the Premier League.
Nunez has scored 14 goals and recorded four assists in 31 appearances for Liverpool since his big-money move from Benfica last year, including scoring twice in Sunday's win over United.
Liverpool travel to Bournemouth on Saturday having beaten the Cherries 9-0 at Anfield earlier this season, but the Uruguay striker knows they cannot be underestimated.
"We can't afford to relax now just because we beat Manchester United 7-0," he told Liverpool's official website. "We have to go into this game with the same mentality and with that same will to win in order to bring the three points home – which is what we want to keep climbing the table.
"In the first game [this season] against [Bournemouth] we beat them 9-0 if I'm not wrong, but this is a different game now. We have to go there to try to beat them again.
"It's like what happened with Manchester United, they beat us [2-1 at Old Trafford] but then it was a different game and we managed to score seven goals. That's football – things can turn around. We have to go there and be strong with the same positive mentality."
The 9-0 game in August saw Bournemouth sack Scott Parker as head coach, since replaced by Gary O'Neil, and Nunez was impressed by their efforts in last Saturday's last-minute 3-2 loss at league leaders Arsenal.
"They're coming into this game in decent form and you can see the changes they've made in their performances," he said. "Against Arsenal, for example, they put in a great performance and were just unlucky to concede in the last minute – but that's football for you.
"Now we have to go and play against them and go there with a positive mindset, not relax for a minute and go out there like lions from the very first second."
Nunez has slowly developed a partnership with Mohamed Salah and Cody Gakpo since his arrival at the end of last season and Gakpo's in January, with the trio scoring six of their seven goals against United (two each).
"Salah is just another thing altogether – he's an absolute star," Nunez said of the Egyptian. "And Gakpo, he got here when we weren't in the best form and he had to settle in as well. We needed to have time training together and now you can see that we're developing a better understanding.
"I hope that keeps going in the same way and that those up front can bring lots of happiness to the fans because they deserve it."
Tags