Lillard carries Trail Blazers again as he builds under-the-radar MVP case
Liam Phillips
Stats Perform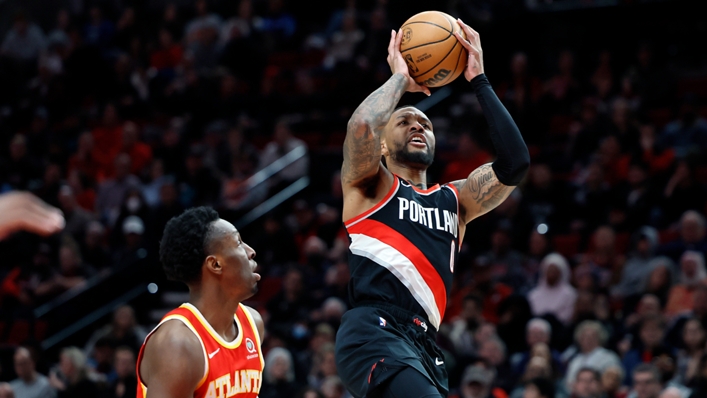 Damian Lillard's red-hot scoring form continued on Monday as he posted his eighth 40-point game of the season.
Lillard was the star of the show in the Portland Trail Blazers' 129-125 home win against the Atlanta Hawks, scoring 42 points on 10-of-21 shooting after finishing a perfect 17-of-17 from the free throw line. Only Joel Embiid (nine), Giannis Antetokounmpo (10) and Luka Doncic (11) have scored 40 more often this season.
He outdueled Dejounte Murray of the Hawks, who was terrific in his own right, collecting a career-high 40 points (13-of-26 shooting), eight rebounds and seven assists.
Having already claimed the record as the Trail Blazers' all-time leading scorer earlier this season, Lillard is showing no signs of slowing down, and is on pace for arguably the best statistical season of his career.
He is averaging a career-high 30.4 points per game, while also tying his career-best field goal percentage of 46.3. Lillard has never averaged more than the 4.1 three-pointers he is making each game, while he is also on track for his fourth season with at least seven assists per game, and his fourth season shooting at least 90 per cent from the line.
He started the season in fine fashion as he posted back-to-back 41 point games in the opening week, but after his scoring average dipped to 22.3 in November, Lillard has hit a rich vein of form since the beginning of the new year.
The six-time All-NBA selection is averaging 34.5 points per game in January – trailing only Philadelphia 76ers powerhouse Embiid with 34.9 – and nobody in the league is averaging better than Lillard's 38.8 points across their past 10 contests.
Portland are 19-19 in the 38 games their star point guard has suited up for this season, and are 5-7 without him, but that does not accurately portray how valuable Lillard is for his franchise.
Lillard's overall plus/minus this season of plus 129 is the best figure on the team, while Josh Hart (plus 110) is the only other player with a mark better than Jusuf Nurkic's plus 52.
His impact on the Trail Blazers' offense is massive, as the team boasts an offensive rating of 118.7 while he is on the floor, but it drops to 112.4 when he is on the bench or not available. For reference, that 118.7 mark is higher than the league-leading Denver Nuggets (117.4), while 112.4 would tie them with the 23rd-ranked Los Angeles Clippers.
Lillard will likely not receive any MVP consideration unless the Blazers make a late push into the Western Conference's top-six, but since the calendar flipped over to 2023 there has arguably not been a better player in the sport.
Tags