Lewandowski tells Messi 'your place is in Barcelona'
Joshua Challies
Stats Perform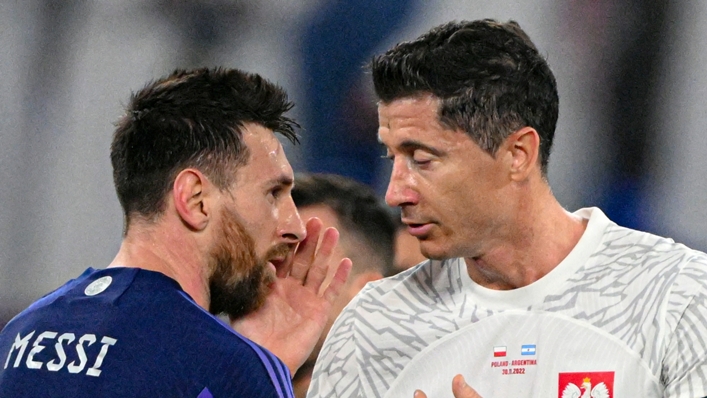 Robert Lewandowski expressed his desire for Lionel Messi to return to Barcelona ahead of next season.
Club legend Messi left Barcelona in 2020, after financial issues at the club prevented the renewal of his deal, and joined Paris Saint-Germain.
Messi's contract in the French capital runs out in June and an exit seems increasingly likely, particularly after his name was booed by some fans during the recent Ligue 1 defeat to Lyon – with supporters venting their frustration at the club's policy of signing big-name players without yielding results in the Champions League.
A return to Camp Nou has often been touted and Lewandowski, who joined the club last year from Bayern Munich, wants to play alongside Messi next season.
"Messi belongs to Barca and if he comes back it will be something incredible," he said at the launch of the 18th book of Solidarity Stories of Sport.
"We know your place is here in Barcelona. I don't know what will happen, but I hope that next season we can play together."
While Barcelona are poised to win LaLiga for the first time since the 2018-19 season, the club exited the Champions League at the group stage and were eliminated from the Europa League by Manchester United.
A Copa del Rey elimination at the hands of Real Madrid prevented a potential treble for the Catalan side, who won the Super Cup earlier in the season, and Lewandowski feels that Barcelona will improve next year.
"It's still early days for LaLiga. We are taking steps and it is not easy," he explained.
"We have a lot of new players and a lot of injuries, like in the group stage of the Champions League or the last game against Madrid, so it's been difficult.
"At Bayern it has always been normal, but Barca is in the process of becoming great again. We have to be patient and I'm sure next season will be better."
Tags