Mbappe gets PSG support after hitting out over Le Graet's Zidane 'disrespect'
John Skilbeck
Stats Perform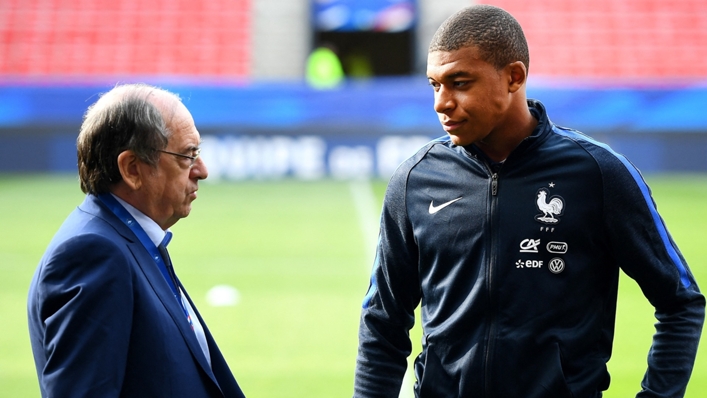 Kylian Mbappe spoke from the heart when defending Zinedine Zidane from sniping by French Football Federation chief Noel Le Graet, according to Paris Saint-Germain boss Christophe Galtier.
Le Graet is facing calls to quit as FFF president after coming under fire for a bizarre comment about France great Zidane, and allegations about his leadership.
The 81-year-old Le Graet told RMC he did not "give a toss" where the 1998 World Cup winner went in his next coaching job, and added he would not answer the phone to the former midfielder.
Former Real Madrid head coach Zidane had been thought to be a likely contender for the France post if coach Didier Deschamps had decided to leave after the recent World Cup in Qatar.
It was instead announced Deschamps would be staying on until the 2026 World Cup, signing a new contract.
France star forward Mbappe delivered a clear and powerful rebuke to the federation president, writing on Twitter: "Zidane is France, we don't disrespect the legend like that..."
While Galtier did not wish to pile on further criticism of Le Graet, the PSG head coach also made it clear he did not agree with the comments from the veteran federation boss either, and understood why Mbappe took his stance.
"Zinedine Zidane deserves the respect of everybody," Galtier said in a PSG press conference on Tuesday.
"He was an extraordinary player for the France team and a brilliant coach who has won the Champions League three times.
"The words that were said have created a strong reaction. I'm not going to comment on those words. I will simply say Zinedine Zidane deserves huge respect from everyone."
Galtier added: "Kylian Mbappe is a great guy. I haven't spoken to him about this. That is away from the context of PSG.
"He expressed himself in his own way with his heart, so that is what he said, and I am not surprised that Kylian Mbappe wanted to defend Zinedine Zidane. I know he has a huge respect for Zinedine Zidane."
The French sports minister Amelie Oudea-Castera has called for change at the top of the FFF, while leading agent Sonia Souid accused Le Graet of improper conduct.
In an RMC interview, Souid outlined how her belief was that in their dealings from 2013 to 2017, Le Graet saw her as an object of his sexual desire.
Le Graet and the FFF did not immediately respond to Souid's allegations.
Tags