Kulusevski vows to 'do everything' to keep Kane at Tottenham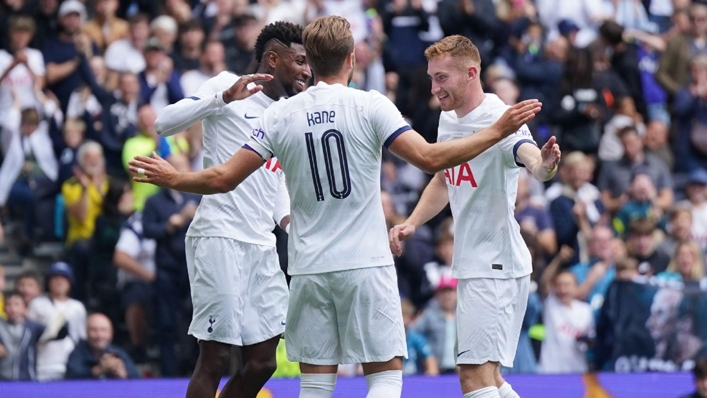 Dejan Kulusevski has vowed to do "everything" in his power to help convince Harry Kane to stay at Tottenham.
Kane ignored the noise around his future to score four times in Spurs' 5-1 friendly victory over Shakhtar Donetsk on Sunday.
The England captain remains the subject of intense interest from Bayern Munich, who are reported to have lodged their latest offer for the forward on Friday, although no outcome of the bid has been announced.
New Tottenham manager Ange Postecoglou hailed Kane's professionalism after his four-goal salvo and his team-mate echoed those sentiments.
"He scored four goals, so very good," Kulusevski exclaimed.
"Nah, he's unbelievable. Honestly, his mentality, I can learn from him like everybody. He just goes out and performs day in day out.
"He's a true professional. I'm happy I helped him score today but of course we want him to stay and we'll do everything to make him stay."
Asked whether it would be beneficial to have Kane's future sorted sooner rather than later, Kulusevski admitted: "I think it would. On the other hand, you can only control what you can control. We players cannot do anything about it.
"We work our hardest, try to stay ready and the players that manage it, it's up to them."
The uncertainty over Kane does not appear to be going away but Tottenham are close to the signings of Micky Van De Ven and Argentinian youngster Alejo Veliz, the PA news agency understands.
Both Wolfsburg centre-back Van De Ven and Rosario Central forward Veliz are booked in to have medicals on Monday and – if their transfers are finalised in time – they could be set to make the trip to Barcelona for Tuesday's final pre-season match of the summer.
It will be the last chance for Postecoglou to get his squad attuned to his front-foot, progressive style of football before their Premier League opener away to Brentford on Sunday.
Kulusevski, after being accustomed to a pragmatic and counter-attacking approach under Antonio Conte previously, is relishing the attacking brand brought in by the Australian.
"It is fun actually. I love it," he said.
"You have to be physically very good, I love that too. I'm enjoying having a lot of ball higher on the pitch, so I'm very grateful to have him (Postecoglou).
"I like him a lot. Also in half-time he was very angry because we stopped playing for five minutes and you cannot be like that.
"You have to play always. Just because you're tired, you (can't) let them have the ball. Things happen like that. So I like him a lot and I'm looking forward to improving under him."
Kane broke the deadlock from the penalty spot after 38 minutes of Sunday's friendly with Shakhtar, but the visitors levelled before the break through Kevin Kelsy.
Postecoglou's half-time hairdryer worked a treat though, with Kane heading home James Maddison's cross soon after before Kulusevski's through ball saw the forward clinch his hat-trick in 55 minutes.
There was still time for Manor Solomon's saved effort to be tapped home by Kane for his fourth and his replacement Dane Scarlett grabbed a fifth with the last kick of the match.
Kulusevski did concede there will be an adjustment period for Tottenham under Postecoglou.
He said: "Everything takes time in life, but the thing is we really, really have to believe in it. It's not enough if he's trying to make us believe. We all have to do it.
"But we're in a good way, I think. This was the first game when we played 90 minutes. We're happy, we ran a lot. It was quite good.
"Last season, maybe we scored one and then we tried to protect the result. So, of course we have to improve but second half was very, very good.
"He (Postecoglou) said we always have to play. Don't shoot away the ball, don't stop pressing, don't waste time. Always play, play the same and don't think about the score or the time. Just play and have fun.
"We all want to score much more. When we go 1-0, we want to score the second, not back off. So, we all we want to score much more."
Tags