Kroos does not feel sorry for Real Madrid's forgotten man Hazard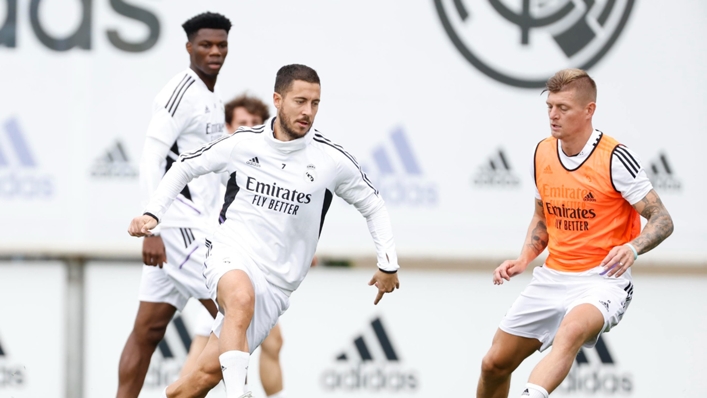 Toni Kroos does not "pity" out-of-favour Real Madrid winger Eden Hazard, insisting: "I don't feel sorry for anyone in football".
Hazard's Madrid career has been blighted by injuries, and the former Chelsea man has only started one game in LaLiga this season.
The 32-year-old, who has only played 98 minutes in the Spanish top flight all campaign, revealed earlier this week that he and Madrid boss Carlo Ancelotti "don't talk to each other".
While Hazard is keen to see out the remainder of the five-year contract he signed when joining Madrid in 2019, the chances of him forcing his way into Los Blancos' plans appear remote. But Kroos has little sympathy for his team-mate.
"Compassion is out of place in football. I don't think Eden has a bad life," he told Belgian broadcaster Eleven Sports.
"You can sympathise with people who are having a clearly worse time. It's not about money, I just don't feel sorry for anyone in football.
"Of course, the situation has been difficult for a long time, but after all, everyone is responsible for their own situation to some extent.
"That's why I think pity is misplaced. I know Eden very well, we talk often, but I only sympathise with people who are in very bad situations and Eden is not one of them."
Tags