Kramaric thanks Herdman for motivating Croatia before 4-1 win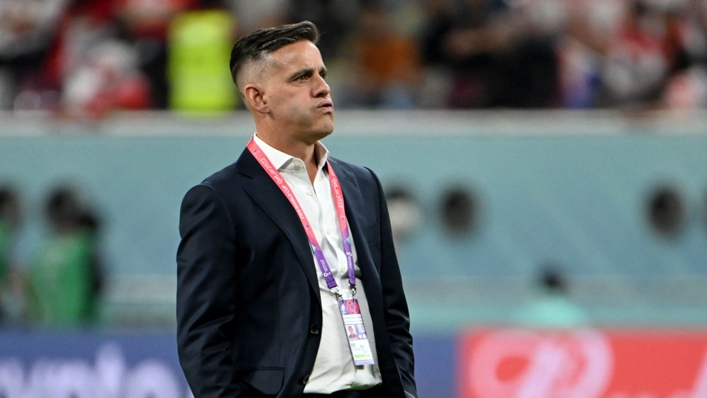 Andrej Kramaric thanked John Herdman for telling Canada to "'F*** Croatia", saying his side "demonstrated who 'F****d' whom" in a 4-1 win.
Croatia dealt Canada their second defeat of this World Cup campaign, eliminating them from contention in Group F.
Canada had been unfortunate to lose their opener 1-0 to Belgium, and Herdman attracted attention afterwards for relaying what his message had been in the post-match huddle.
Croatia coach Zlatko Dalic responded by saying his team "deserve respect", and the 2018 finalists claimed to be motivated by Herdman's comments.
"I want to thank the Canada coach for the motivation," said Kramaric after scoring twice on Sunday. "In the end, Croatia demonstrated who 'F****d' whom."
The Croatia team could be heard celebrating nearby as Herdman took to the stage for his news conference, but he did not regret his comment.
"No, not at all," he said. "There's definitely a respect there for Croatia.
"As I keep saying, we're here to push as far as we can, here to change the mentality of the group. I could have been more composed coming out of the huddle, and that's part of my learning.
"I think we showed in the first 25 minutes that little Canada can compete with the best in the world.
"I don't think we gave [Croatia] an easy night. They deserved it, but we made them work for it."
According to Dalic, Herdman's "learning" should also include coming to terms with losses, as he suggested he had not heard from his opposite number following full-time.
"Whether I win or lose, I always like to congratulate the winner," Dalic said. "But he was not there, and that's his way of doing things.
"He was obviously mad. He is a high quality coach, but it will take him time to learn some things."
The evening had started so positively for Canada, who led through Alphonso Davies' second-minute header – their first World Cup goal in their fifth finals match.
"It was an amazing, amazing feeling," said captain Atiba Hutchinson. "We've wanted that for our country for a very long time.
"I always dreamt of playing in a World Cup. To see the ball hit the back of the net was great.
"In that moment, you want to continue to push on from there, and you have that feeling that this day is going to be for us. Today, it wasn't to be."
Tags