Kostic excited to play with Serbia team-mate Vlahovic at Juventus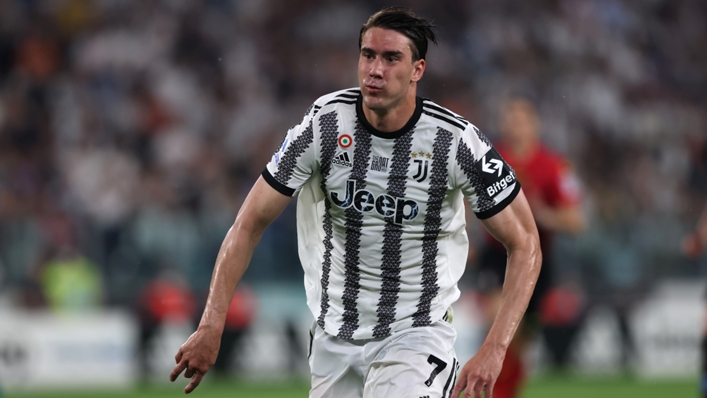 Filip Kostic has expressed his excitement at the prospect of linking up with fellow Serbia international Dusan Vlahovic after joining the striker at Juventus.
Having played a key role in Eintracht Frankfurt's Europa League triumph last season, Kostic finalised a €16million move to the Bianconeri on Friday, ending a four-year spell with the Bundesliga outfit.
Kostic is already familiar with Vlahovic, having teamed up with him on a regular basis on the international stage, and the 29-year-old's creative abilities will likely be received well by the Juve striker.
Vlahovic scored 29 goals in all competitions last season – including nine for Juve following his January transfer from rivals Fiorentina. He averaged a strike every 182 minutes after joining the Turin giants, converting 58.33 per cent of his big chances.
And those numbers will likely improve with Kostic providing service from the left, after he created 112 chances for Eintracht last campaign – almost double the highest tally managed by any of his team-mates.
Speaking to Juve's media channels after completing his transfer, Kostic revealed he had already been in touch with his compatriot, explaining: "I've already talked to Dusan, I'm happy that he's part of the team.
"He's one of the best strikers, it's nice to play with him."
As well as scoring seven goals for Eintracht last term, Kostic teed up 13 for team-mates, and represents an exciting signing for a side that struggled for attacking inspiration under Massimiliano Allegri throughout 2021-22.
Asked whether the Bianconeri's supporters could expect the assists to continue to flow, the dynamic wing-back said: "I like to play like that, then it depends on what the manager wants and what is best for the team. If it's good for the team, I'll do it best.
"It's a special day for me. I am very happy, it is not very difficult to say 'yes' to Juventus.
"I gave everything and I worked hard for it. I think I deserve Juventus. When a club like this arrives, it's always the right time."
Tags