Klopp: Liverpool should use Rashford example to get back to top form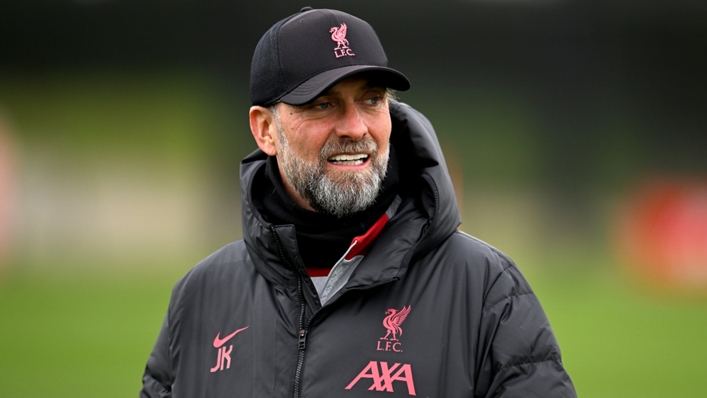 Jurgen Klopp has challenged Liverpool to follow Marcus Rashford's example and roar back to match-winning form.
Klopp's side have won just one of their last six games in all competitions, with Kaoru Mitoma's stoppage-time winner for Brighton and Hove Albion last weekend ending the Reds' hopes of silverware in the FA Cup.
Out of the EFL Cup and sitting 21 points behind Premier League leaders Arsenal in ninth, Liverpool have failed to match the standards they have set for much of Klopp's time at the club.
They have won the Premier League and Champions League under the German, while finishing runners-up in those competitions a combined four times.
Liverpool's slump has coincided with rivals Manchester United enjoying a strong first campaign under new manager Erik ten Hag, with the Red Devils fourth in the league and the only team left fighting for success on four fronts.
United have been able to count on the impressive form of Rashford, who has bounced back from scoring just four league goals last season to net 18 times in 31 appearances across all competitions this term.
Klopp cited Rashford's stunning return to form as a model for Liverpool to follow in their bid to get back to winning ways, saying: "One of the best examples is Marcus Rashford, the season he had last year and this year.
"I'm sure he can't really explain it. It's not like Marcus didn't want to deliver last year. Now he's flying.
"The time in between these two extremes, you have to use, you have to work and fight through it. Self-pity is not allowed in these moments. Only one person can change this, and it's yourselves. These things can happen and will happen, but it's about limiting the time to get back on track."
Having tasted victory only eight times in 19 league games so far this season, Klopp believes his team must show they are capable of winning games again if they are to finish the season strongly.
"We love this game, the boys especially because they can play it still," Klopp said. "A big part of it is the desire to win football games. When you don't achieve that, that's the hardest moment for all footballers on the planet.
"We were much better in a lot of areas [against Brighton], but in the end when the result is not right, it overshadows everything.
"When you've won the last five games, you don't have to prove that you can win football games because everybody knows. We have to prove this point, that's clear.
"We didn't win enough football games in the last few weeks and the whole season so far, so that's what we want."
Liverpool travel to Molineux to face Wolves on Saturday, a third meeting with Julen Lopetegui's side since the turn of the year following a 2-2 draw at Anfield in an FA Cup third-round game and a 1-0 victory in the replay.
Saturday's match is the first of a run that sees them face local rivals Everton and top-four hopefuls Newcastle United, before the first leg of their Champions League last-16 tie with Real Madrid at Anfield on February 21.
Klopp is remaining calm ahead of the crucial juncture in Liverpool's season, explaining at his pre-match press conference: "I don't worry about a run of fixtures. We have to use the time we have to improve, to play the football we want to play, to work on the things we think are necessary or massively necessary.
"We have only played half the season, which is crazy but means the second half of the season we can do whatever we want in a positive direction.
"We decide how positive the outcome will be."
Tags