Joleon Lescott's Premier League team of the season so far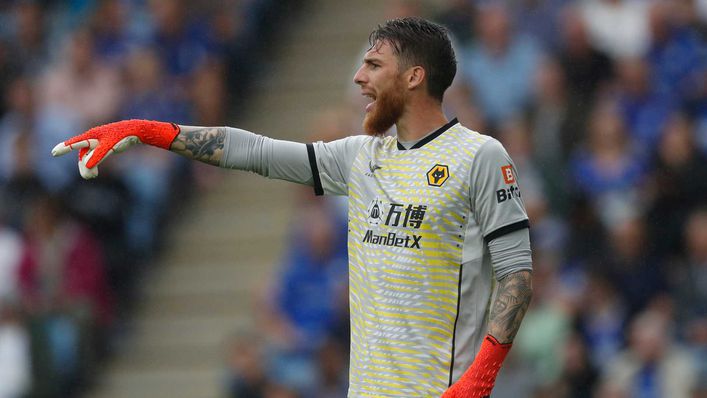 With the Premier League stars enjoying a well-earned winter break this weekend, LiveScore columnist Joleon Lescott has been looking back at the campaign to date.
The ex-England defender has picked out his team of the season so far, opting for a 4-3-3 formation.
Read on to see who makes the cut — and let us know what you think of his line-up.
Goalkeeper: Jose Sa (Wolves)
There are a few obvious contenders for this one but I've been so impressed with the way Jose Sa has settled in at Wolves.
Defensive performances have been outstanding at Molineux this season and a goalkeeper plays such a big role in any settled backline, setting the tone for those in front of them.
Replacing someone who was as well respected as Rui Patricio was, he hasn't put a foot wrong in months and that takes some doing at the top level.
Right-back: Reece James (Chelsea)
This is probably the hardest position on the pitch to pick, to be honest.
Joao Cancelo and Trent Alexander-Arnold are both world-class options but I'm just edging towards Reece James.
Although the Chelsea star has been sidelined recently, his performances earlier in the campaign were slightly more rounded than the other two and that's what edges it for me.
While still offering plenty of quality going forward, he's a brilliant defender and you'd have confidence in him performing in both departments regardless of formation.
Centre-back: Antonio Rudiger (Chelsea)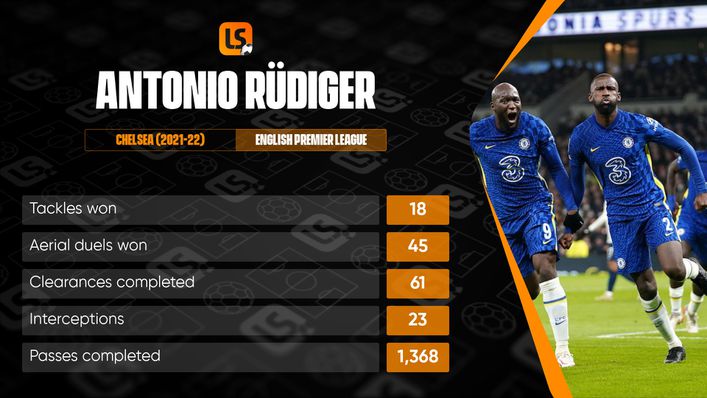 Regular readers of my column will know how highly I rate Antonio Rudiger and he's an easy first choice in my centre-half pairing.
The German international has been flawless for the Blues this season and, in my opinion, is the best in the league in his position.
He's a bit of a throwback in the way that he genuinely relishes a battle and loves to defend — no forward in the Premier League will enjoy facing him and that tells you all you need to know.
Centre-back: Ruben Dias (Manchester City)
I'm a big admirer of Thiago Silva and the Brazilian could easily have been the third Chelsea defender in my side. However, I just can't leave out the towering presence of Ruben Dias.
He was pivotal to City's title win last term and has continued where he left off this time around, leading by example with his front-foot, aggressive style of defending.
Pep Guardiola has given him the captain's armband on several occasions recently and that is testament to how much the Spaniard thinks of him.
Left-back: Andy Robertson (Liverpool)
When thinking about elite Premier League left-backs, Andy Robertson is the first name that comes to mind and I still think he's been well ahead of his rivals this season, even with a few shaky moments.
Aaron Cresswell was fantastic prior to his injury for West Ham but what makes Robertson so good is his consistency and reliability — you can count the number of bad games he's had on one hand.
He's clearly a respected character in that Liverpool dressing room and any club in world football would love to have the Scotsman in their ranks.
Defensive midfield: Rodri (Manchester City)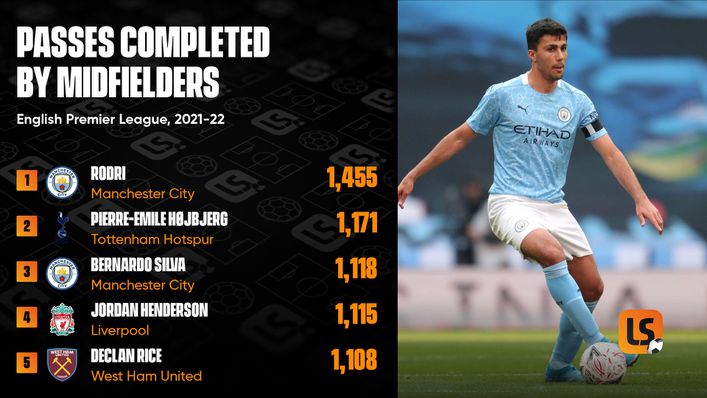 I've gone with three in my central midfield and the man protecting the backline has to be Rodri, who has arguably become the most important player in Manchester City's XI this season.
The fact he's made over 250 passes more than any other midfielder in the division and still has 92% accuracy sums him up — he's composed, effective and unbelievably reliable.
Like Robertson, he hits those high standards every single week and that kind of player is an absolute dream for a manager.
Central midfield: Conor Gallagher (Crystal Palace)
Ahead of Rodri, I've gone for two players who give you energy, drive and a bit more going forward — and Conor Gallagher has delivered on all of those counts at Crystal Palace this season.
The way he's played, I expect him to go back to Chelsea next season and be playing. He's looked capable in a two or a three-man midfield and he really does have a fantastic range of skills.
With seven goals to his name and a fiery attitude on the field, his team-mates must love playing with him and he has a very exciting career ahead.
Central midfield: Bernardo Silva (Manchester City)
The final place in my midfield three goes to the maestro Bernardo Silva, who must be in the mix for the PFA Player of the Year award after rediscovering his very best form for City.
While a recent quiet patch in front of goal has possibly left him trailing Mohamed Salah in that regard, the Portuguese star has been magnificent for the champions and a virtual ever-present.
His creativity is what people know him best for but Silva is also an extremely hard worker and, unlike some attacking midfielders, he doesn't cut corners when it comes to covering ground in a game.
Right wing: Mohamed Salah (Liverpool)
You can't leave him out really, can you? Salah continues to defy logic with his goal contributions — 16 goals and nine assists in 20 appearances this season alone is just ridiculous.
Liverpool will be counting down the days until they have their talisman back at Anfield. And if anyone is going to single-handedly light the title race up again, it's the Egyptian.
We're watching a very special player at his peak. And as a football fan, Salah is a joy to behold. He's box office in every sense.
Centre-forward: Diogo Jota (Liverpool)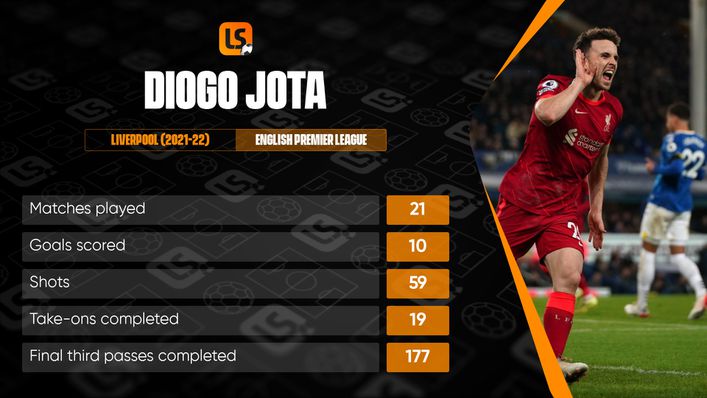 This was a hard call but I have to go for Diogo Jota, who has stepped up to another level since leaving Wolves in 2020 — he has surprised me, to be honest.
His work rate and general play have always been top drawer. But for him to now be someone Jurgen Klopp can count on for 15 or 20 goals is incredible really, so credit to him.
I would even go as far as saying he and Salah are now the first-choice options when all of Liverpool's forwards are fit, which nobody could've imagined even 12 months ago.
Left wing: Jarrod Bowen (West Ham)
If a more high-profile player had been producing the numbers Jarrod Bowen has for West Ham this season, people would be going wild about it.
The Hammers have had a brilliant couple of seasons and Bowen has been a huge part of that success, adding a clinical edge to all that good build-up play in an understated fashion.
David Moyes must love the way he goes about his business and, while him and Salah would have to rotate their preferred right-wing spot, I can't leave him out of my side.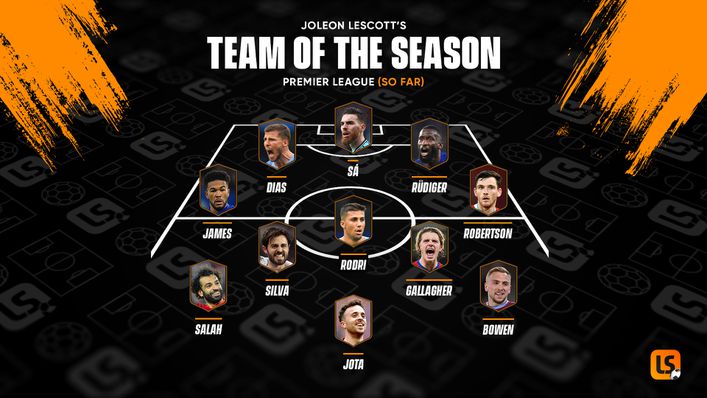 What do you think of Joleon Lescott's Premier League team of the season so far? Let us know on social media here.
Joleon Lescott was speaking to Matthew Hill
Tags