Chelsea star Felix supports friend Vinicius after racist abuse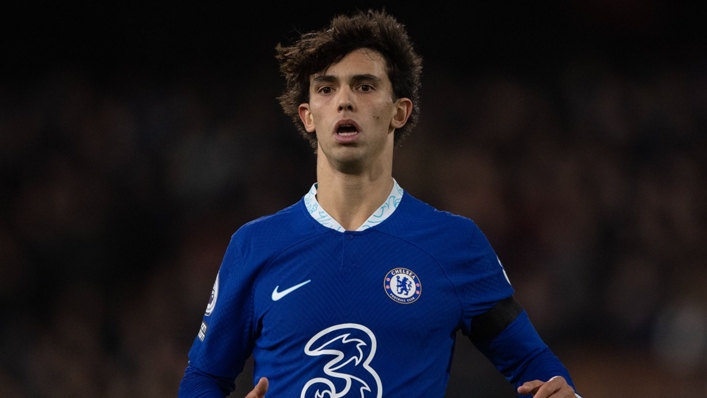 Joao Felix hit out at the latest racist taunts towards "friend" Vinicius Junior and suggested his detractors are jealous of what the Real Madrid star can do on the pitch.
Social media footage showed racist insults being shouted at Vinicius during Madrid's 1-0 loss at Real Mallorca on Sunday, marking the latest in a string of similar incidents this season involving the 22-year-old.
Portugal forward Joao Felix, on loan at Chelsea from Atletico Madrid, says he cannot fathom the abuse being directed at Vinicius.
"I don't understand the criticism of Vinicius," he told AS. "Maybe it's because he's better than the others, maybe because he does dribbles that others can't, because he's fast like others aren't, he scores goals, gives assists.
"He is in a very good moment and it seems that all people are against him. I am friends with him, I talk to him and I like his football... it's his football, it's fun, I like it and I don't understand the criticisms.
"It's a shame that racism issues are included. There are ways of criticising without getting into that topic."
Joao Felix departed Atleti for Stamford Bridge on a temporary deal in January, with reports suggesting he had fallen out with Colchoneros boss Diego Simeone, though the player only had kind words for the Argentine coach.
"Everyone knows him, everyone knows what he won," he said. "He is a very good trainer. He has his way of understanding and seeing football that others don't. This is good for some and bad for others. That depends on them, but he has his virtue and that makes him a good coach."
After receiving a red card on his debut for Chelsea at Fulham, Joao Felix is set to make only his second appearance for the Blues on Saturday when they travel to West Ham.
The 23-year-old has been impressed by the club since arriving, praising the structures that have helped him to settle in London.
"It is a great club, as we all know," he said. "The structures are very, very good, they have everything. There are a lot of people around the team so that everything is fine and that makes a difference. It is very well-structured."
Joao Felix was one of eight players signed by Chelsea in the January transfer window, with Enzo Fernandez among those acquired in a deal worth around £106million (€121m).
Having also moved from Benfica for a large sum in 2019, Joao Felix has backed Fernandez to live up to his price tag, saying: "It is becoming more and more normal for amounts like this to be paid. Football has changed, and it will be common for 80, 90, 100, 110m to be paid.
"He deserves the money because he is a young player, he is very good and has a lot of room to evolve. He will surely be one of the best midfielders in Europe."
Tags