Vardy plots American dream as new co-owner of Rochester Rhinos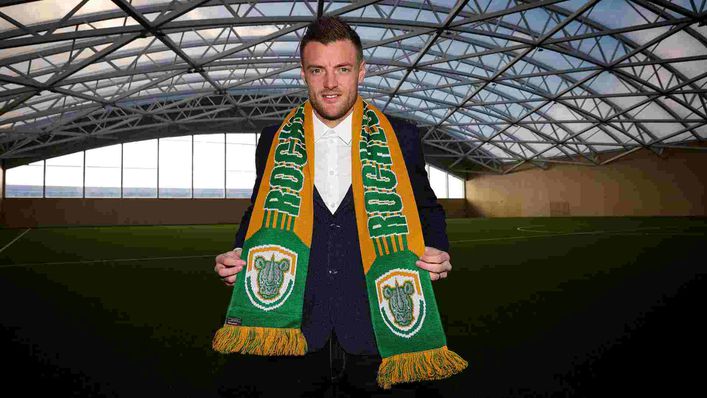 Jamie Vardy is already plotting his next rags-to-riches story after becoming a co-owner of US-based football franchise Rochester Rhinos.
Leicester icon Vardy, 34, has bought a minority stake in the club, who are set to return to the field in 2022 after a four-year hiatus due to financial problems.
The former England international has no intention of hanging up his own boots just yet — but the move is a clear marker of his intention to stay involved in football beyond his playing years.
Starting from the bottom
Rochester are a club who have fallen on hard times but are well-remembered Stateside for being the only non-MLS winners of the US Open Cup back in 1999.
Working in tandem with David and Wendy Dworkin — who bought the club in 2016 — Vardy hopes his personal experience of a rapid rise through the footballing ranks will prove an asset.
He said: "I'm really excited to be part of the Rhinos. I've been looking at opportunities in the United States for a while but there was something about Rochester and the Rhinos that just felt right.
"I love the story of the US Open Cup win. Although the club has been through some difficult years since, in a way that makes this more appealing to me.
"Once I started speaking to David and Wendy — and we've had so many conversations via video calls — I could see how enthusiastic they are about the Rhinos. I knew I wanted to get involved and try to play a part in helping to turn things around.
"It won't be easy but I never do anything the easy way in life!"
Work to be done
It seems a match made in heaven between the struggling Rhinos and Vardy, who famously rose through English football's ranks when going from non-league to the Premier League in just three years.
The Foxes forward will assist the Dworkins in filling senior positions within the club, including a head coach, while Lee Tucker — who helped spearhead Vardy's hugely successful V9 Academy — is set to become sporting director.
David Dworkin said: "Aside from the experience, knowledge and profile that Jamie will bring to our club, one of the things that has really shone through during our discussions with him is how incredibly passionate he is about this project.
"Jamie absolutely shares our desire to give Rochester a successful soccer team again."
Tags