Bellingham keen to avoid fine despite 'joke' refereeing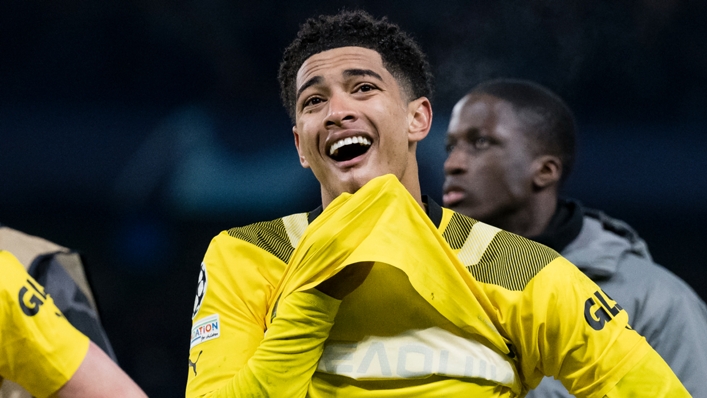 Jude Bellingham labelled the refereeing in Borussia Dortmund's Champions League defeat at Chelsea a "joke", though he warned he would not talk himself into another fine.
Dortmund took a 1-0 lead to Stamford Bridge for the second leg on Tuesday after Karim Adeyemi's goal at Signal Iduna Park gave them the advantage in the round of 16 tie.
But Raheem Sterling equalised on aggregate in the 43rd minute, before Marius Wolf was adjudged to have handled Ben Chilwell's cross in the Dortmund box from close range shortly after the break.
Kai Havertz hit the post with his initial penalty, but a retake was ordered after a Dortmund player allegedly encroached, with Havertz making no mistake with the second spot-kick by sending Alexander Meyer the wrong way as Chelsea held on to dump Dortmund out.
Bellingham, who was fined €40,000 (£35,665) by the German Football Association (DFB) in 2021 for criticising referee Felix Zwayer, was unhappy with both the decision to award a penalty and the ruling of a retake, blaming Havertz's run-up for his team-mates edging into the area.
"From where I was it looked like he was pretty close and I'm not sure what more he can do with his hands," Bellingham told BT Sport. "It's a yard or two away.
"I don't want to get in trouble, I've paid enough to them lot.
"That in itself was disappointing, and then the fact they've had a retake I think is a joke. For every penalty, especially when you have such a slow run-up, there's going to be people encroaching into the box by a yard or so.
"But that's the game I suppose, he's made a decision and we have to live with it."
Dortmund head coach Edin Terzic was keen to focus on his team's shortcomings rather than blame the referee, though he also felt it was a tight call that went against his side.
"I'm responsible for the performance of our team and my performance," Terzic said. "I don't want to talk about the referee.
"It's now the third time your [media] colleagues are asking me the question. I think it was a tight call and a harsh decision but that's how it goes."
Despite the defeat, Terzic was proud of his players and pointed to Chelsea's huge spending in the transfer market as evidence of his team competing at the top level.
"Fair play to Chelsea and congratulations," Terzic added. "It was two very tight games and in the end, inches decide whether you go to the next round or not.
"We have enough quality in the team and that's the good thing. These two games, this is what we want. We don't want to compete with Chelsea in the transfer market, we want to compete with Chelsea on the matchday and I think we did it twice."
Tags