Everton owner Moshiri says Lampard's future 'not my decision'
Patric Ridge
Stats Perform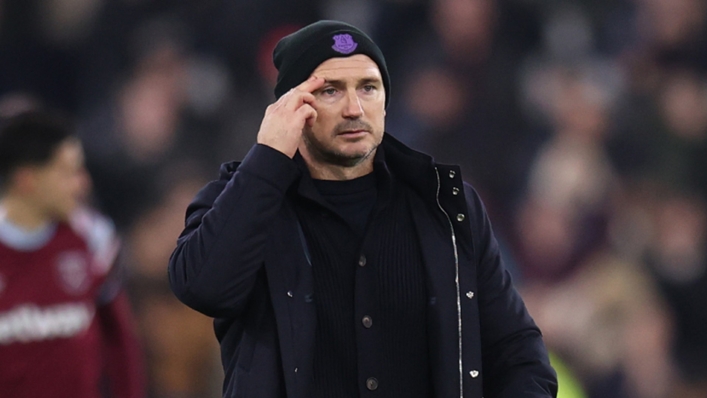 Everton owner Farhad Moshiri said a decision on Frank Lampard's future does not rest with him.
Moshiri, who has hired six permanent managers since he invested into the club in 2016, was in attendance as Everton lost 2-0 to West Ham on Saturday at London Stadium.
That marked an eighth defeat in nine games for Everton across all competitions, leaving them 19th in the table, level on points with last-placed Southampton.
Yet Moshiri, who publicly backed Lampard prior to a crunch defeat to Southampton last week, claimed a decision on the manager is not in his hands.
"I can't comment. It's not my decision," he told Sky Sports.
Bill Kenwright and the rest of the club's board watched on from the stands against West Ham, having not attended Goodison Park for the Southampton game due to concerns over their safety.
Kenwright, the Everton chairman, was also asked if time was up for Lampard.
"It's been a bad run of results for us all and for Frank," he said. "But I would never say that to you, ever.
"We've got to start winning, haven't we? Bad time."
Moshiri said in an interview with talkSPORT earlier this month he had previously made decisions on managerial appointments based on the wants of fans.
Lampard told Sky Sports: "Those things are not my choice; it's my job to work and focus and keep my head down. If they are difficult conditions, I just have to do my job."
When asked if he felt the support of Everton's hierarchy, he responded: "I know there are issues, I'm not trying to close my ears to anything. It's just about how you work, the support you feel, the communication, that sort of thing.
"We communicate all the time, we have done since I've been here. I try to do the best I can for the club."
Speaking in his post-match press conference, West Ham manager David Moyes, who spent 11 years at Everton and has been under pressure himself, said he hoped the Toffees stood by their boss.
"I hope Everton stick with Frank, I think he's a top bloke from my conversations and the times I've been with him," Moyes said.
"I would hate to think Everton would go down because they mean so much to me."
While Everton are yet to make a signing in January, Moyes thanked West Ham's board for the support they have shown him with the addition of Danny Ings, who made his debut off the bench.
"I've had brilliant support from the board and even buying Danny shows they want to do whatever they can to help," he added.
Tags