Haaland in awe of five-goal heroics after City blitz Leipzig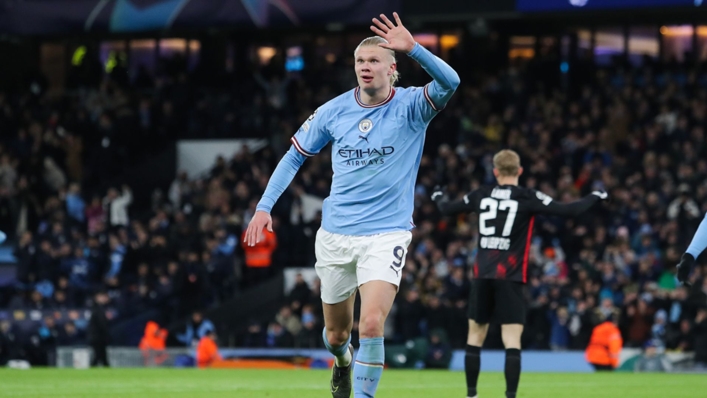 Erling Haaland claimed his five-goal haul all blurred together after his record-breaking performance steered Manchester City into the Champions League quarter-finals.
The Norway international fired Pep Guardiola's hosts to a 7-0 victory over RB Leipzig at the Etihad Stadium on Tuesday in the second leg of their last-16 tie.
With a 8-1 aggregate victory overall, City's dominant efforts saw them help their striker to 39 goals across all competitions for the campaign, breaking the club's single-season record for an individual after almost a century.
But pressed afterwards to pick out his favourite finish of the match, Haaland said he could not recall any of them individually after his heroics in a freewheeling display.
"It's all a bit blurry in my head," he told BT Sport. "I don't remember the goals. I just remember shooting and [not] thinking. I'm so tired after the celebrations.
"A lot of the goals, I didn't think. I was just wanting to get the ball in the back of the net. The same with the second goal, with the third goal, with every goal.
"I think a lot of it is being quick in the mind and trying to do the right thing [in the moment]. A lot of it is in the head, I think."
Haaland exited the game in the 63rd minute as Guardiola opted to rotate key men ahead of an FA Cup quarter-final with Burnley on Saturday.
The 22-year-old acknowledged he would have loved to stay on and hunt a sixth of the game, revealing he told his manager as much as he was replaced.
"I told him when I went off I would love to score a double hat-trick," he added. "But what can you do?"
City's victory matched their previous best in the Champions League, a 7-0 win over Schalke in 2019, and Haaland suggested his arrival could finally help them clinch the sought-after trophy that has thus far eluded them.
"To give a statement that we can score seven goals in this competition, it is an amazing feeling," he added to CBS. "The club wants to win the Champions League.
"They have won the Premier League four times in the last five years. They didn't bring me to win the Premier League, they know how to do that."
Tags