In Focus: Why Vlahovic should be Tottenham-bound this summer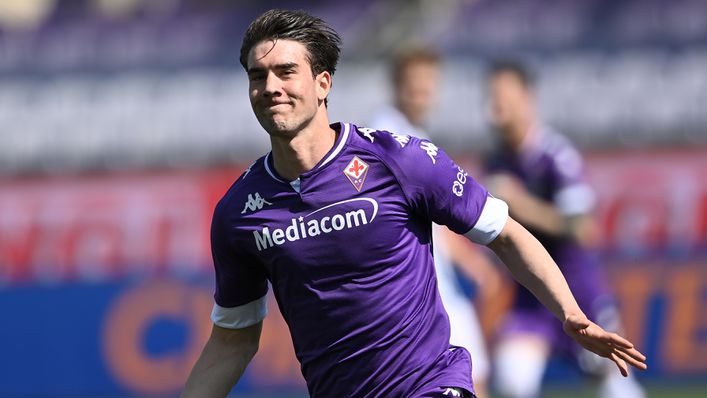 Things are slowly falling into place for Tottenham.
Chairman Daniel Levy hired Fabio Paratici as the club's Director of Football earlier this summer. In turn, the Italian transfer guru picked Nuno Espirito Santo as the man to succeed Jose Mourinho.
Next up, according to reports, is a new striker – and Dusan Vlahovic tops their wish list.
Vlahovic so far
Vlahovic, 21, exploded onto the scene with Fiorentina last season, netting 21 Serie A goals in 37 outings.
A 6ft3in powerhouse, he was unplayable in the second half of the campaign, notching 17 times in 24 appearances.
He proved himself to be a big game player for the Viola, involving himself in goals against Lazio, AC Milan, Juventus and Atalanta.
The Serbian's form didn't go unnoticed and he was linked with Europe's elite.
Despite claims they aren't going to sell Vlahovic, Fiorentina have signed a No9 this summer in Stuttgart's Nicolas Gonzalez.
Rival or successor?
There's still uncertainty surrounding Harry Kane's future.
If Vlahovic does make the move to Tottenham, that'll only increase the speculation but his arrival shouldn't be contingent on the England international leaving.
Finding an alternative to Kane has been on the agenda for quite some time now.
Tottenham tried both Fernando Llorente and Carlos Vinicius. Now might be the right time to invest in someone who can rival the 27-year-old, especially given the number of injuries he has had over the years.
If he impresses, there's no reason Vlahovic can't eventually succeed Kane as the main man.
Vlahovic isn't as well rounded as Kane, but he's still only 21. There's a lot to work with right now and Espirito Santo knows how to get the best out of goal poachers – just look at what he did with Raul Jimenez at Wolves.
Haaland comparisons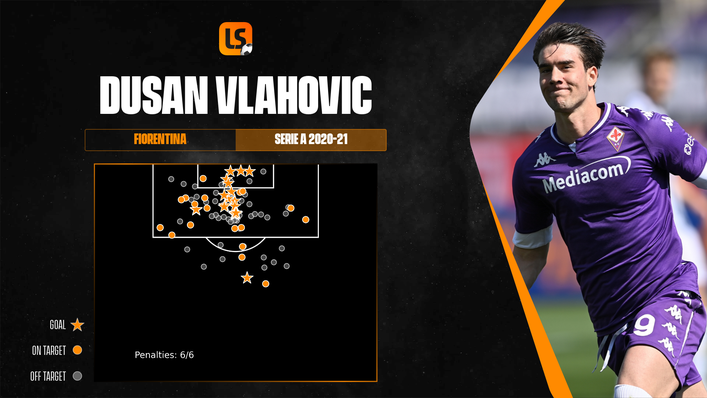 Earlier this summer, former Fiorentina forward Stevan Jovetic claimed that Vlahovic will one day challenge Erling Haaland for the title of world's greatest striker.
He said: "He has pace, strength and an eye for the goal. He will be the best striker of the next few years with Haaland."
There are many similarities between the two. Not only are they both left-footed, but they're also elite chance-getters and finishers.
As evidenced in his shot map, Vlahovic is a penalty box predator and he has already mastered the art of getting into high-quality areas.
More than just goal machine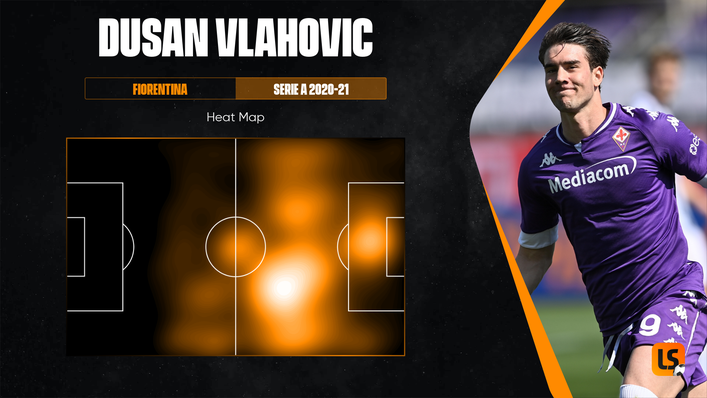 There are some attackers out there who are nothing more than goalscorers. When things aren't going well and chances aren't falling their way, they end up being passengers as the action passes them by.
Vlahovic does not have that problem.
For starters, he isn't reliant on a huge volume of chances. He ranked 41st in Serie A for shots last season, averaging just 2.64 per 90 minutes. Despite this, he ranked sixth for goals (0.64) with a record of 0.58 expected goals (xG) per 90.
Furthermore, as seen in the heat map above, he operates all over the final third and not just in the penalty area.
He ranked in the 75th percentile for aerial duels won (3.43) and fouls won (2.28), when compared with forwards in Europe's top five leagues.
The Viola star often relieves the pressure on his team and helps them sustain phases of play in the opposition's half – in that sense he is the perfect modern-day No9.
Now or never
If Vlahovic repeats the form shown during the 2020-21 campaign for Fiorentina in the upcoming season, it is unlikely Tottenham will have the opportunity to sign him next summer.
A year from now, a lot of Europe's elite will be in the market for a striker, especially once Haaland's future is sorted.
Champions League sides will be in the frame and there are no guarantees that the Premier League outfit will be able to claim a top-four finish.
There might not be another opportunity to sign one of the best attacking talents in Europe for a reasonable fee.
It really is now or never for Tottenham, as far as signing Vlahovic is concerned.
Tags