In Focus: Fearsome Fofana is key to Foxes' hunt for European glory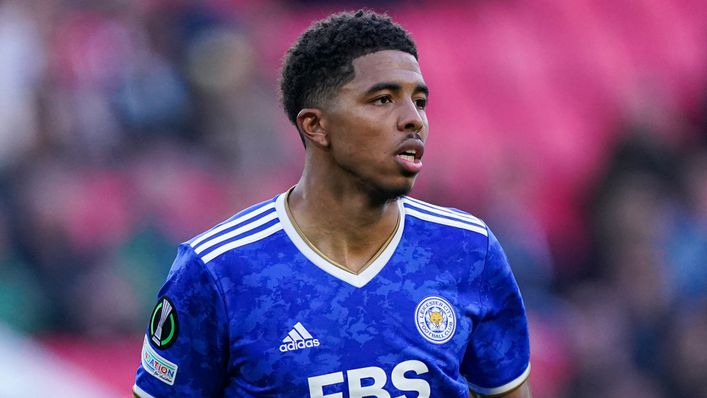 Wesley Fofana's absence this season has shown how crucial the talented centre-back is to Leicester.
The Frenchman has been sidelined for much of the current campaign through injury and his impressive form since returning to action is reminding the Foxes' faithful what they have been missing.
The 21-year-old defender will have a key role to play tonight as Brendan Rodgers' men take on Roma in the second leg of their Europa Conference League semi-final tie.
Ahead of that showdown in the Italian capital, we take a look at how Fofana can help his side secure continental silverware.
Crucial Conference League
Leicester's inconsistent league form means they have had to put all their eggs in the Europa Conference League basket and Fofana's return has coincided with the Foxes' biggest games in the competition.
It is now their only realistic way to qualify for European competition next term, with the winners entering the 2022-23 Europa League.
If the Marseille native's commanding displays against PSV Eindhoven in the quarter-finals are anything to go by, Rodgers' outfit will have a good chance of reaching this month's showpiece in Tirana.
New deal and transfer interest
Fofana recently signed a new contract with Leicester, which runs until 2027.
And the defender's long spell out of action after breaking his leg in a pre-season clash against Champions League semi-finalists Villarreal made it easy to underestimate what a coup this deal was for the Foxes.
After all, some of the biggest clubs on the continent were being linked with a move for their prized asset after he enjoyed a sensational first season in England.
Such a long contract offers the France Under-21s international time to fully regain his fitness as well as protecting his transfer value for the foreseeable future.
Manchester United remain interested according to reports, though it seems unlikely that they will be able to match Leicester's asking price with reinforcements needed in other areas.
Welcome return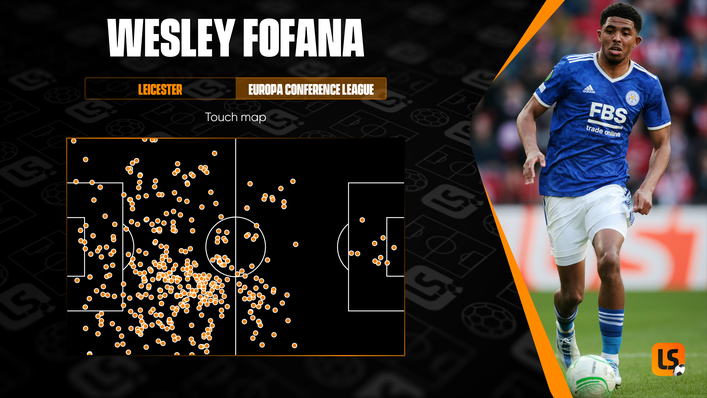 Fofana has featured more often in Europe than he has in the Premier League since his return to action.
Rodgers is saving his best defender for the big matches as he looks to claim another trophy as Leicester boss.
His No3 has started all three Europa Conference League games since his goalscoring return to action in the second leg of March's last-16 tie against Rennes.
However, he has only appeared in three of the seven Premier League matches his side have played during that time to maximise his impact in the fixtures that really count.
More to come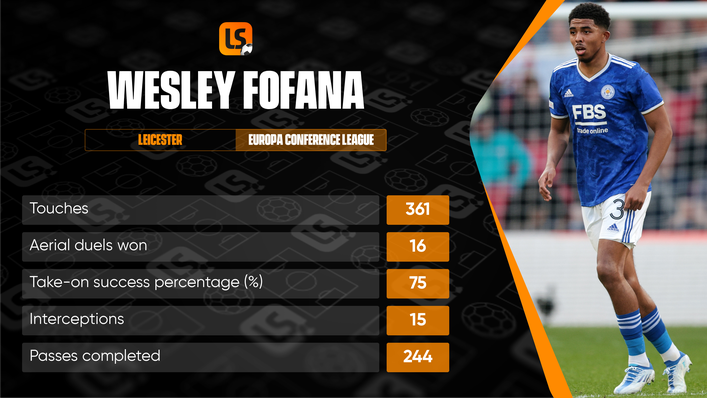 Rodgers believes Fofana could become one of the best in the world in his position.
Speaking after the first-leg 1-1 draw against Jose Mourinho's side, he said: "He [Fofana] is really going to be a top player.
"For the first goal, I think he has to learn, he's still so young. His position for the goal, these are the things he has to develop but the raw material is absolutely there.
"He's got the speed, he's dominant and competitive and that's so important. Some players have the physicality but they don't necessarily use it.
"He's aggressive, he defends forward and once he's got the positioning he'll go on to be one of the leading centre-halves in football, I've got absolutely no question about that."
Time to tighten up
Only lowly Leeds and Watford have kept fewer clean sheets in the Premier League than Leicester this season.
Their six shutouts — one of which came after Fofana's return — are almost half of the 11 they secured last term with their star defender in the starting line-up for seven of them.
Rodgers' side have often struggled defensively and their attacking talent has helped to paper over the cracks to a degree.
But they will need to shore up their rearguard in order to reach the Europa Conference League final and make further progress next season.
Fofana will certainly take centre stage in the backline — unless one of the interested parties come up with a small fortune to force the Foxes' hand.
Tags