In Focus: Osimhen firing Napoli to Scudetto glory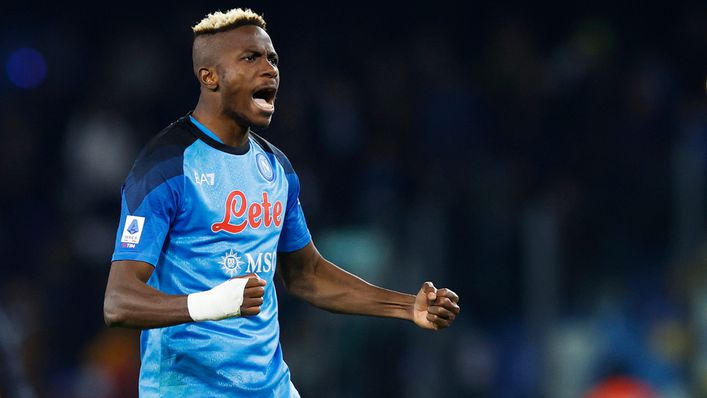 Victor Osimhen looks like he will shoot Napoli to their first Serie A title since the days of Diego Maradona.
The Nigerian international scored a memorable goal in the 2-1 home win against Roma last Sunday, which left the league leaders 13 points clear at the top of the table.
In his third season in Italy, the striker is leading the scoring charts in Serie A and attracting the attention of Europe's biggest clubs.
As Luciano Spalletti's men prepare to claim another win when they visit Spezia this weekend, we take a look at Osimhen's rise to the top.
Title bid
Osimhen has been one of the key figures in Napoli's title bid this season.
The 24-year-old has scored 14 goals and provided three assists in just 16 Serie A appearances.
This includes five goals in his last four league games, helping the Partenopei to claim crucial wins against Sampdoria, Juventus, Salernitana and Roma.
There are still 18 matches for Napoli to play, but with a 13-point lead over second placed Inter Milan, they seem certain to win their first Serie A title since 1990.
This seems especially likely if Osimhen can remain fit and firing, with even bigger challenges also within the reach of Spalletti's spectacular side.
European elite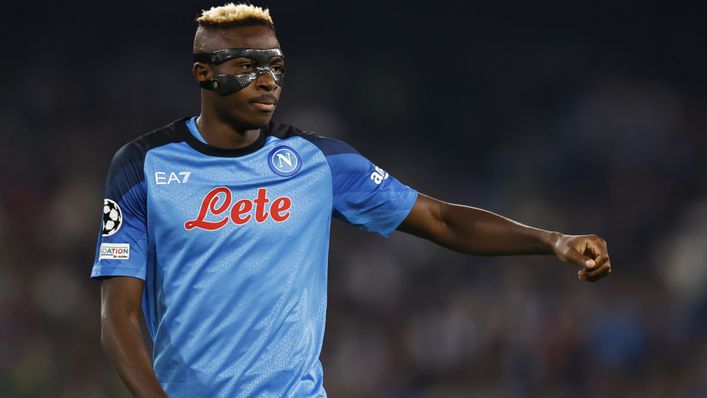 Osimhen's Champions League appearances have been limited by injuries this season, scoring only once in his three European outings.
Despite his reduced contribution, Napoli still won their group ahead of last season's finalists Liverpool. Their 20 goals in the opening stage was more than any other team managed.
After being given a relatively kind draw in the last 16 against Bundesliga outfit Eintracht Frankfurt, the Italians should reach the quarter-finals.
With the side and Osimhen in such fine form, they have to be taken seriously as contenders.
One way or the other, Osimhen seems certain to be playing among Europe's elite before long. His exploits this season have attracted interest from the likes of Manchester United and Paris Saint-Germain.
A fee in the region of £90million is thought to be required for Osimhen to be prised from the Stadio Diego Armando Maradona, with his contract expiring in 2025.
Blistering pace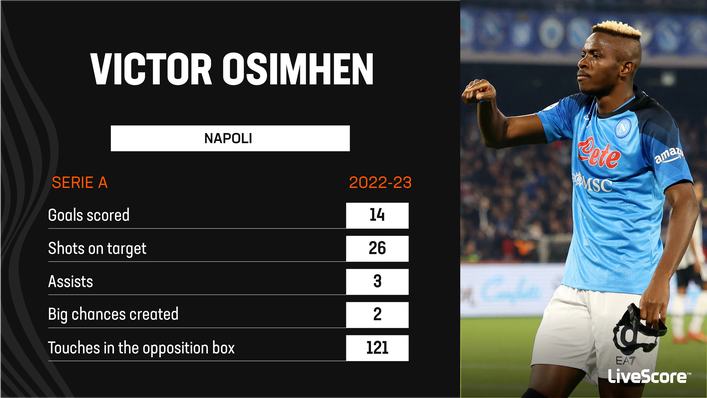 It should be no surprise that Napoli would require a huge fee to part with Osimhen, considering that they paid a reported club-record sum for the Lagos native when they signed him from Lille in 2020.
He was not an immediate success, scoring only 10 goals in 30 games during his first season in Italy. Last season was better, as the forward added 18 goals in 32 appearances.
His performances in 2021-22 saw him linked with United last summer and his exploits this season may have well persuaded the Red Devils that he is worth the sort of huge fee that the Neapolitans would want.
With excpetional pace, intelligent movement, good ball retention, finishing ability and willingness to press, Osimhen would seem to have all the capabilities needed to lead the line at Old Trafford.
Napoli of course, will be hoping to keep their No9 and they can make a persuasive argument. Few sides in Europe are playing as well as Spalletti's team right now.
Unrealised potential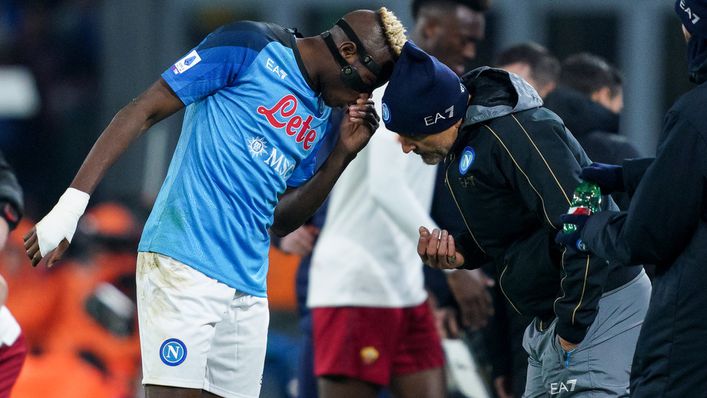 Talks over a new contract have not yet begun. It may be easier for Napoli to persuade their talisman to stay, if and when they become Italian champions.
As well as Osimhen has performed for his team this season, Spalletti believes that there is even more to come.
Speaking about his striker, Spalletti said: "I am amazed by the potential Osimhen hasn't put into practice yet. He is devastating on long balls, can stand strong physically and has courage too.
"He's had his face cut two or three times because he never backs down. He almost always takes risks but he's a player who has potential and room for improvement."
The thought of Osimhen getting even better is an exciting one. With Napoli now able to provide the platform for the marksman to achieve great things, we may see him reach new heights before this season is even out.
Tags