In Focus: Thiago the Silva lining for Poch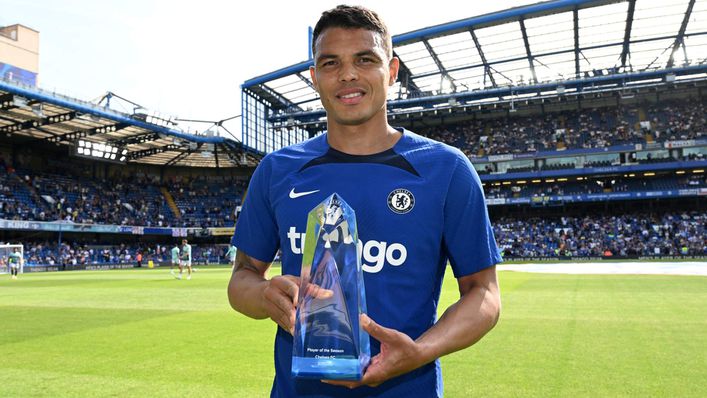 Thiago Silva has been voted Chelsea's Player of the Season for 2022-23 by Blues supporters.
The 38-year-old won by an overwhelming majority thanks to his commanding displays during a tough season, which saw the West Londoners finish 12th in the Premier League table and without a trophy.
The Brazil international will be key to Mauricio Pochettino's plans to get his new side back on track next term.
Fan favourite
Silva knows very well how tough the season has been for Chelsea fans.
On the reception he received when collecting his award after the 1-1 draw with Newcastle last Sunday, he said: "It was a very emotional moment for me, especially because in spite of the bad season we have had, fans still wanted to show me their support.
"It's been a hard year, so the recognition fills me with happiness, pride and pleasure for being part of this team.
"From my first day here, I have been warmly welcomed by Chelsea fans and so my commitment is even greater than before because I know we need to respond to them with better performances on the pitch and give them the response they deserve."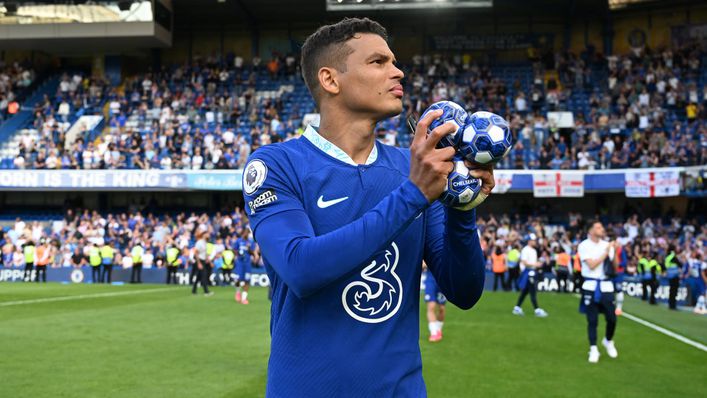 Terrific Thiago
In a league campaign where Chelsea won just 11 games and scored only 38 goals, Silva remained a ray of hope.
The ex-Paris Saint-Germain centre-back completed the most passes of any player in the West Londoners' squad (1,854) with an eye-catching accuracy of 91.29%.
He made more interceptions (34) and clearances (109) than all of his team-mates, too.
And the Champions League winner also topped the charts for possessions won in the defensive third (88), despite only featuring in 27 of the 38 league matches.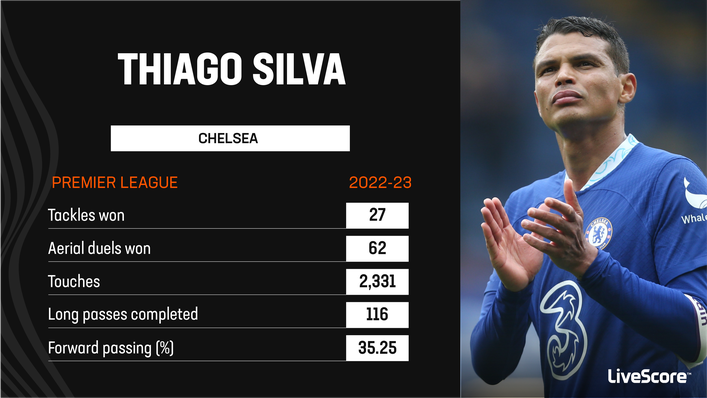 Chelsea is home
There was speculation that Silva could return to Brazil this summer but he appears intent on seeing out his contract at Stamford Bridge, which runs until the end of next season.
Speaking about the importance of the Blues to him and his family, he said: "The club is really important to all of us — it's a mutual love.
"My wife, for instance, takes the underground to games and when she gets off the train people recognise her and start to sing my name to her! That just shows the love that they have for us, and we have for them.
"I need to live close to Cobham because I have to focus more on my personal care and treatment. But I know my wife goes to London a lot, far more than I do, and I know she really likes it — she says it's a very welcoming city.
"Bit by bit, we are feeling more and more like Londoners. The whole family have fallen in love with Chelsea.
"My sons, Isago and Iago, both play for Chelsea. Isago has extended his contract here for the next two seasons, which means we are going to be here for two years. We just hope it's more!"
New era
Pochettino's arrival as Graham Potter's permanent successor has given fans cautious optimism for 2023-24, where the team will not be playing in Europe.
The Argentine faces one of the toughest jobs in football, with perhaps the biggest problem of all being Chelsea's bloated squad — caused by Todd Boehly's lavish spending.
But at least the ex-Tottenham boss will have a defensive general in Silva he can lean on to assist steering the ship in the right direction.
The South American stalwart added: "Things obviously haven't happened the way we wanted them to this season.
"It's the hardest season I can remember having and it's been really tough for me this year. I'm just thinking about looking forward towards a better future."
Tags