In Focus: Struggling Rashford sums up Man Utd's slump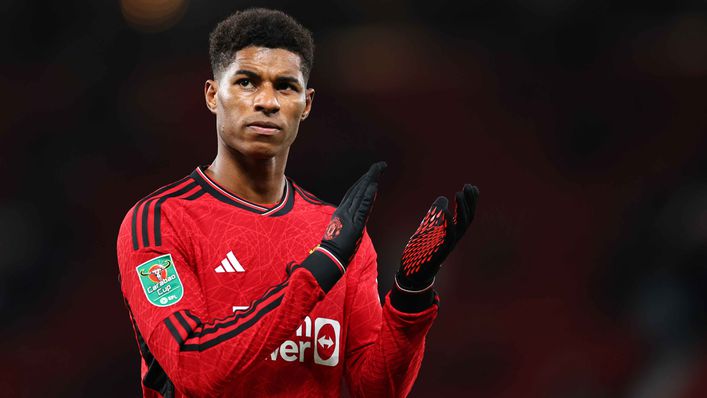 Marcus Rashford's form sums up Manchester United's current state.
The misfiring forward has backed up last season's superb effort with a tepid one this time around and there is no indication that things are about to improve.
After missing Saturday's trip to Fulham with injury, Rashford looks set to return to Ten Hag's line-up for tonight's crunch Champions League game at FC Copenhagen.
We take a look at where it has gone wrong so far this term.
Hot and cold
Even as he has evolved into a senior player, Rashford's inconsistency has plagued him.
The 26-year-old has produced runs of five goals in 13 club appearances and two in 20 either side of his stunning return of 17 strikes in 19 games after last season's World Cup.
And even prior to that, two short hot streaks in the 2020-21 season were followed by a 2021-22 campaign in which he notched just five times.
His streaky nature means managers will rarely leave him out of the side but must suffer long periods of disappointment.
Rash efforts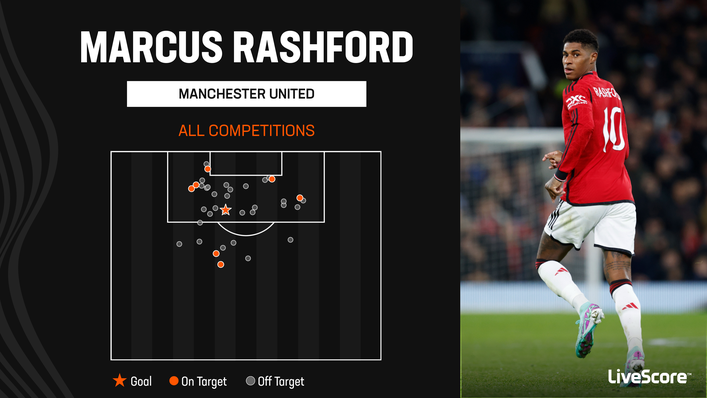 The ultimate example of a confidence player, Rashford's shooting has become increasingly erratic as he searches for form this term.
United's No10 has posted a Premier League shot accuracy of 20.59% this season — in stark contrast to last season's ratio of 46.3%.
And even though he is taking 3.4 shots per game compared to 3.1 in 2022-23, his expected goals tally per match has plummeted from 0.58 to 0.39.
That is another indication of his wayward shooting from less dangerous positions in desperation to find the net.
Needs help
Featuring in a side that is dysfunctional in several other areas of the field can hardly help.
Ten Hag has failed to land on a preferred midfield line-up — and even when he does, seems to lack the personnel to both control matches and create big chances.
Indeed, Rashford has played his best football of the last few months for England, who are much more in sync.
Jude Bellingham's stunning involvement in his goal for the Three Lions against Italy last month hinted at what the United man could achieve if he had space opened up for him by an effective unit at club level.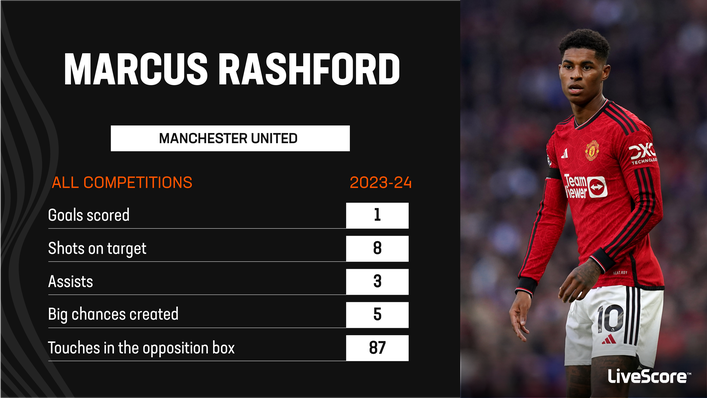 Heavy burden
Rashford's inconsistent form and confidence are symptomatic of a team who have struggled to hit the heights they ought to have done throughout his Old Trafford career.
But when discussing Rashford's "unacceptable" night out after the recent 3-0 defeat to local rivals Manchester City, Ten Hag did also hint at the work Rashford is doing to correct his slump.
He said: "I know how much effort he is putting in. I am sure he is doing everything right to help the team."
A player who United legend Paul Scholes has previously commented is "trying too hard", it may be that Rashford must relax in order to rediscover last season's form.
Tags