In Focus: Junior is all grown up and thriving at Real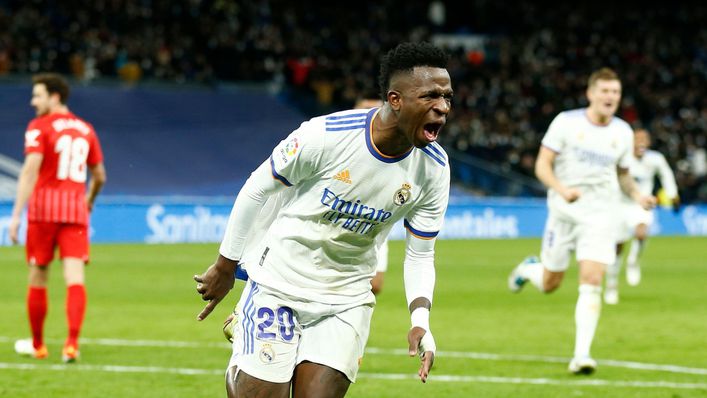 Vinicius Junior was the toast of the Bernabeu on Sunday evening after a brilliant strike for Real Madrid.
The Brazilian rifled an effort into the top corner late in their game against third-placed Sevilla to give them a vital 2-1 win.
It cemented Los Blancos' spot at the top of LaLiga and was the latest standout moment for a 21-year-old finally finding his feet in Spain.
Real can go seven points clear if they beat Athletic Bilbao tonight and Vinicius will be licking his lips at the prospect of taking the limelight again.
Early struggles
Vinicius has been at the Bernabeu for three and a half years but struggled in his first months in the Spanish capital.
It was a huge leap for the then 18-year-old when he was signed for £39.6million having only featured 49 times for Flamengo's first team.
There have been gradual improvements year on year but Vinicius still frustrated more often than not.
Speaking recently, he said: "I was younger then. I came from Brazil, I had hardly played a year in the Flamengo first team, I came to the biggest club in the world and I was 18.
"Now I'm better prepared technically and psychologically."
It's fair to say Vinicius experienced a bumpy beginning to life in European football.
Karim Benzema was infamously caught on camera bad-mouthing the winger to Ferland Mendy in a Champions League game in October 2020 and there was plenty of criticism from fans and media.
Thriving under Ancelotti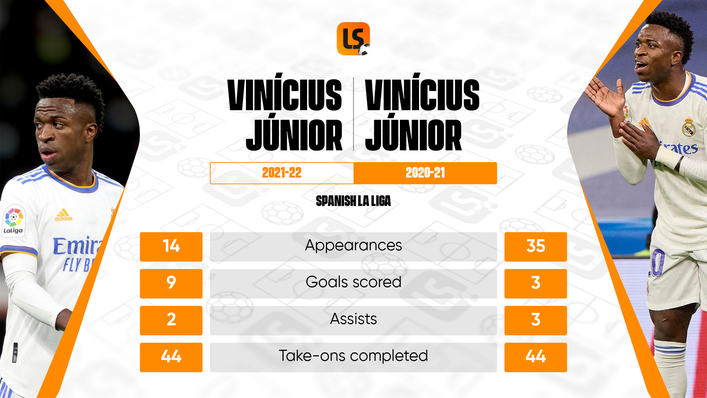 The Bernabeu has not been an easy environment to thrive in over recent seasons.
There has been seemingly constant chopping and changing of managers as well as big names departing.
But Carlo Ancelotti's arrival appears to have brought the best out of Vinicius.
On the Italian, Vinicius explained: "He is very good. He always makes things clear, on and off the pitch, he makes it easy. I'm not surprised.
"He asks me to be calm so that I do the things I know I can do."
Ancelotti has managed plenty of the world's best and believes his young winger has the potential to win the Ballon d'Or one day.
And his comments about Vinicius' manner off the pitch and desire to improve suggest that it may one day happen.
The Real coach said: "He doesn't feel like a star, he's still humble, that's one of his best qualities."
Stepping up
Vinicius' improvement has been remarkable.
In 82 LaLiga appearances prior to this season, he scored seven times. This campaign he has managed nine in 14 games. There have also been two assists.
He has been named Real's Player of the Month in both August and October as his moments of brilliance helped his side to the top of LaLiga.
And the highlight was the winner against Sevilla, which Ancelotti described as "extraordinary, fantastic, incredible."
In the right areas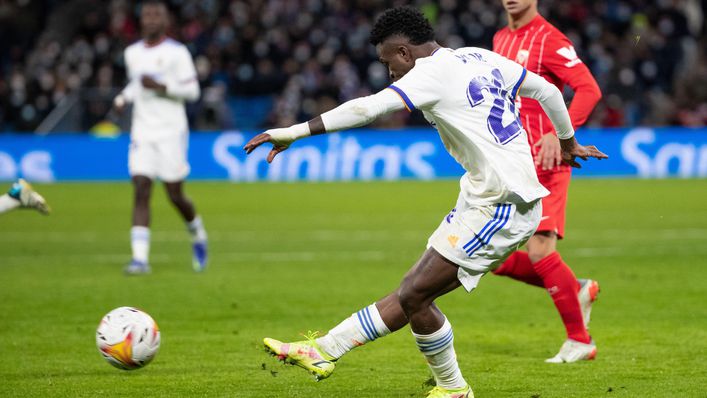 For all the stats that show Vinicius is having more touches, more shots and creating more chances than previously, it is the defensive stats that show the big difference.
Ancelotti has tried to take away any defensive burden on the Brazilian, who always had the desire to help his side out.
The youngster is making fewer tackles, fewer interceptions and winning the ball back less often than he was last season.
That is by design — it means he is staying high up the pitch in dangerous areas where he can hurt the opposition with his obvious ability.
Real desire
Paris Saint-Germain and Manchester United have been linked with moves for Vinicius in recent days — but he has no interest in leaving Real.
He said: "At the beginning it was difficult. There were lots of changes, the language, you have to adapt quickly.
"But I was with my family and friends and that helped me. It was difficult, but now I'm in love with Real Madrid and I want to stay here for many years and make history at this club."
Vinicius' first aim will be carrying on his good form and helping Real win back the LaLiga title that city rivals Atletico claimed last term.
Earlier this week he said that he wants to help Benzema win a Ballon d'Or — but it seems more likely Vinicius could be the man challenging the game's best in the future. The sky is the limit.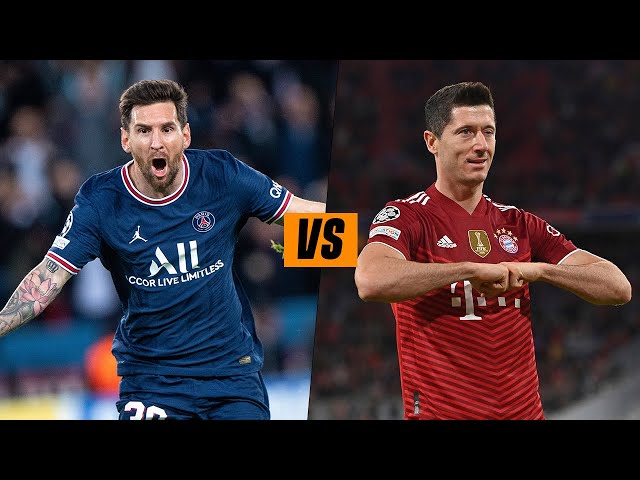 Tags