In Focus: Fantastic Foden can Phil central midfield role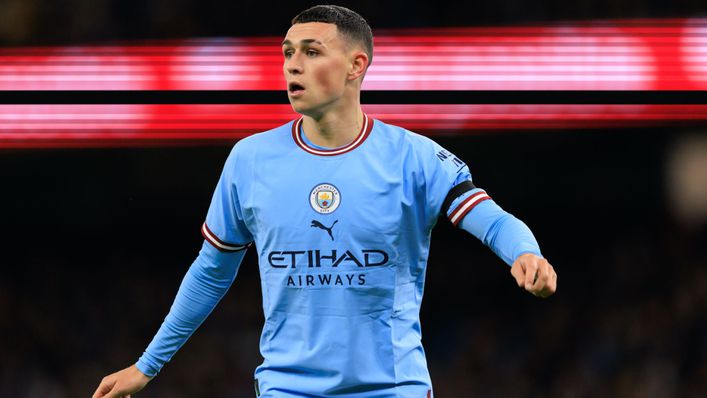 It is not easy for an attacking player to stand out at a club as star-studded as Manchester City — but Phil Foden is managing to do just that.
Over the last few years, the Stockport-born ace has evolved from an exciting prospect into a vital member of Pep Guardiola's first-team squad.
This is despite there being an ongoing debate at both club and international level as to what Foden's best position is and in what role his future lies.
As City prepare to take on Southampton in their Carabao Cup quarter-final this evening, we take a look at what we can expect from the 22-year-old during this campaign and in the years to come.
Goal glut
Foden's increasing importance to his boyhood club is demonstrated by his goalscoring numbers, with the attacking midfielder having netted nine times in 25 games this season.
Last season, Foden scored 14 goals in 45 outings, making him City's fourth top scorer behind the now departed Raheem Sterling, Kevin De Bruyne and Riyad Mahrez.
His 2021-22 tally worked out at a goal every 3.2 games, which is only marginally lower than his contribution in the previous campaign, where his 16 goals in 50 matches equated to a goal every 3.1 games.
This term, the Three Lions star is averaging a goal every 2.7 appearances.
Even more impressively, this comes at a time when Erling Haaland has scored 39% of Manchester City's total goals.
To put that into perspective, last season's top scorer Mahrez only scored 16% of the team's goals that season, with the overall tally shared much more evenly throughout the squad.
Though Mahrez and De Bruyne's goalscoring numbers have dropped since Haaland's arrival, Foden has managed to buck the trend and increase his rate.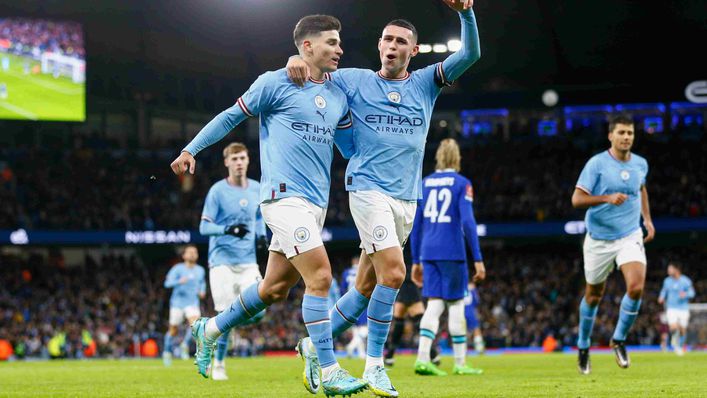 Premier League regular
Though De Bruyne is scoring fewer goals, he is creating them at a greater rate — already surpassing last season's tally of 14 assists.
Foden laid on 11 goals for team-mates last season and could reach a similar total this campaign, having currently racked up three.
It is no coincidence that this uplift in direct goal involvements has tied in with the England international becoming more important to Guardiola.
After the departures of Sterling and Gabriel Jesus over the summer, Foden has featured in all 17 of City's Premier League games — starting 12.
Haaland is now set in stone as the team's centre forward and Julian Alvarez is an able deputy, meaning Foden is no longer being asked to play as a false nine.
That has seen him spend most of the campaign on the left flank, though last weekend's FA Cup third-round tie against Chelsea saw Guardiola deploy Foden as a central midfielder, where he scored in a 4-0 win.
Central role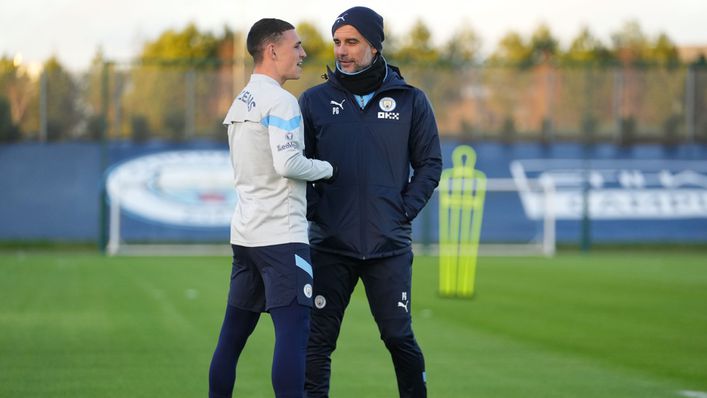 After the Chelsea victory, Guardiola spoke about Foden's potential in the middle of the park.
The Catalan coach, 51, said: "He can play inside, but inside you have more attributes to do more things and pay attention more because there are more people, it is not just 'I am going to press and run', it is when and where.
"The spaces are minor. Wider you have time, but what is important is Phil has the quality to play in these small, small spaces. It is not easy to find.
"Phil has these attributes. Of course he can play wider on both sides, he played top class in the last years playing wider but he can also play in the middle."
With De Bruyne now 31 years old and Ilkay Gundogan 32, it makes sense for Guardiola to gradually groom Foden for a central midfield position.
England hopes
Though Guardiola may have one eye on Foden's future as a central midfielder, that switch does not appear to be imminent.
After all, it would be difficult to tamper with things when he is delivering from his wide left position for both club and country so impressively.
At the recent World Cup, Foden was on the bench in England's first two games, but was given an opportunity to start against Wales.
He took that chance emphatically with a goal in a 3-0 win and remained on the left of Gareth Southgate's front three for the remainder of the tournament.
Southgate has often been under pressure to play Foden in a central role but has cited the fact that he rarely plays there for Manchester City as a reason against the move.
The prospect of an England midfield that could one day see Declan Rice and Jude Bellingham play alongside Foden is an exciting one.
Yet with the City star still at a tender age, there is no rush to make the transition.
Tags