Anthony Elanga has emerged as the young winger impressing at Manchester United under Ralf Rangnick.
Rangnick's arrival was billed as a second chance for Jadon Sancho, or the time for Marcus Rashford's Red Devils career to kick on again.
While the latter did score in last night's 3-1 win at Brentford, it is Elanga who is taking all the headlines and will only get better under United's interim boss.
Ahead of Saturday's clash with West Ham, we take a look at the Swede with the world at his feet.
Stinging the Bees
Wednesday's strike against the Bees was the reward for a hard week's work for Elanga.
He had impressed against Aston Villa on his first league start of the season and was subbed before United threw their lead away, but it was his opening goal at Brentford that made people stand up and take notice.
With the ball fizzed into him, Elanga showed great awareness and bravery to control then nod the ball beyond onrushing keeper Jonas Lossl.
Afterwards, Elanga said: "I appreciate the boss so much and you can see in training, the intensity, how much we are running.
"If you put the work in, you'll get rewards in games and that's what I want to try and do every day — try to work hard and train the way I want to play.
"For me, I love to start for this wonderful club and I want it to continue, but I've got to put the work in during training and then when I get the opportunity out on the pitch, take it.
"It is my second start of the season and hopefully it is the second of many. I just need to keep pushing."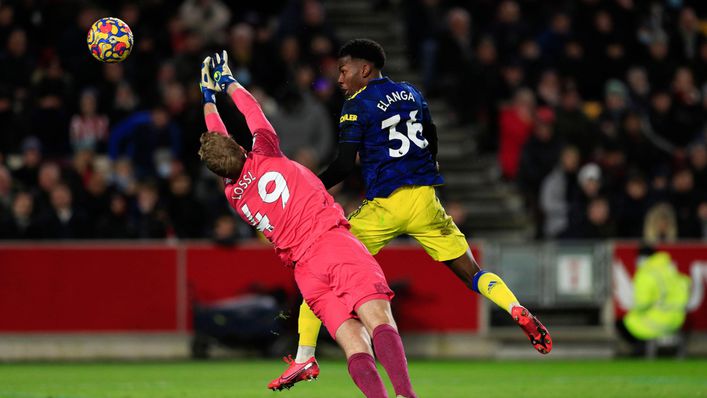 The stats
Elanga has looked well-suited to the pressing game Rangnick is so desperate to implement at Old Trafford.
It is early days for the Sweden Under-21s international but in both games he has won the ball back once in the attacking third of the pitch and once in the middle third.
United seem to lack a spark going forward at times and Elanga has tried his best to get them firing.
In both of his starts, he has taken on the most opponents of any player on the pitch — four against Brentford and five at Villa.
His goal came from his only chance against the Bees, while he had four shots on Saturday, a total only bettered by Mason Greenwood.
Teacher's pet
Those performances and his efforts in training mean the Swede is currently the apple of Rangnick's eye.
The German admitted he had heard of Elanga but knew little about him before he joined — luckily YouTube helped him out.
Rangnick said: "I must say from the very first day, from my first training session, he showed up.
"l had heard his name before and I was in my hotel room watching videos of him on YouTube. I thought, this boy was really good.
"He was almost on his way out on loan. I told him, 'you will not go out on loan, you will stay here'."
And after last night's display, he heaped more praise on the young winger: "Anthony Elanga followed up on the performance he showed at Villa Park.
"He was outstanding in the second half, put in a lot of work against the ball and then scoring the first goal."
Work ethic
The dressing room at United has not been the easiest place to be over recent years, by all accounts.
It was unhappy under Jose Mourinho, better at first under Ole Gunnar Solskjaer before rumours of as many as a third of senior players wanting to leave surfaced, following his departure.
The reaction to Elanga's breakthrough shows he has managed to sidestep that and clearly has a work ethic that wins him plenty of friends.
On Saturday, Bruno Fernandes said: "I said it last season already, Anthony is a kid that works hard and is prepared to be in the team, prepared to play.
"He's been a top kid, waiting for his moment, training really hard and he deserved the chance that he got today.
"He was, for me, one of the best on the pitch. He gave everything. We are really happy for him because he deserved his chance."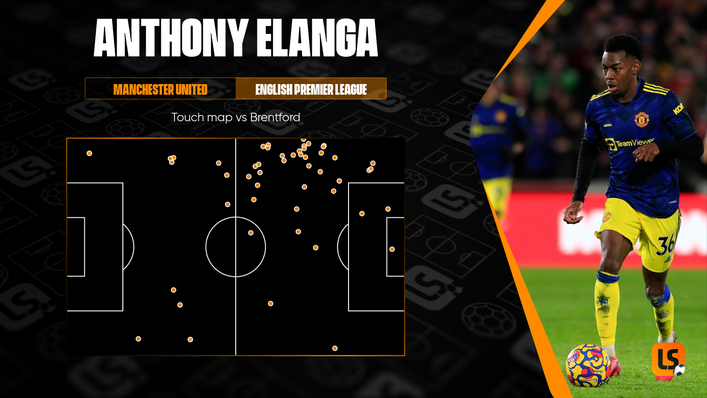 Keep kicking on
It looks like Elanga will be regularly used by Rangnick now as one of United's wide forwards.
Sancho, Rashford, Greenwood and perhaps Anthony Martial, if he stays, will all compete for the same spots.
Then the sky is the limit for the 19-year-old, who had been tipped to head out on loan to the Championship this January.
Joining fellow countryman Victor Lindelof in the Sweden squad is always a possibility — though the centre-back has told Elanga to focus on working hard.
Lindelof said: "He's a young player, a good talent, who comes in here every day and really wants to improve his game. He works very, very hard and I'm pleased for him.
"If he keeps doing the things he's doing at the moment, I think he's going to have a great future ahead of him. It's all about staying humble and to keep working hard."
With the Hammers next up, it's another chance for Elanga to nail down his starting place.