In Focus: Arsenal Hav a problem getting Kai firing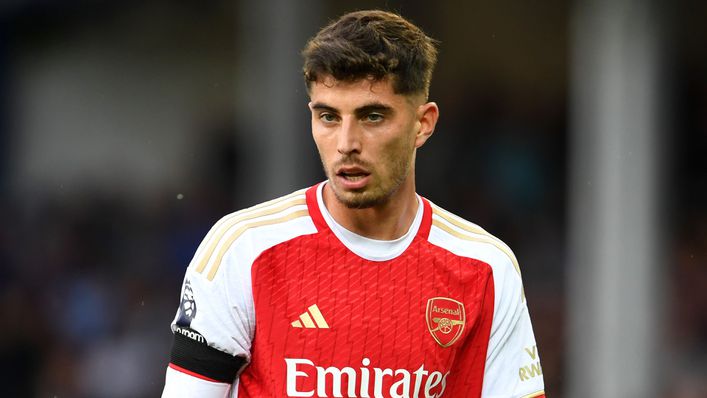 Kai Havertz has still to prove to Arsenal fans that he can perform better than he did at Chelsea.
The German got off to a bright start with the Blues, after scoring the winning goal in the Champions League final in his first season at the club in 2020-21.
Yet he ultimately failed to show the form that made him look like such a prospect in the Bundesliga and was sold to the Gunners for £65million this summer.
Ahead of Arsenal's Champions League match against PSV Eindhoven, we take a look at how Havertz is faring at the Emirates.
Sub-standard
Arsenal's 1-0 victory at Everton last Sunday was the first game in which Havertz was not included in Mikel Arteta's starting XI this season.
The 24-year-old made his debut for the Gunners in the Community Shield, in which he impressed when utilised as a striker.
When the Premier League started, he was selected on the left of Arsenal's midfield three for their first four games.
Arteta started with Fabio Vieira in that role at Goodison Park, with Havertz eventually replacing the Portuguese as a late substitute.
The former Bayer Leverkusen star has yet to score or register an assist since joining the North Londoners.
Havertz has looked increasingly unconfident since making his move, culminating in an embarrassing miss against Manchester United.
Having taken the heat off the Germany international by naming him as a substitute, we now wait to see whether Arteta will restore him to the team that faces PSV.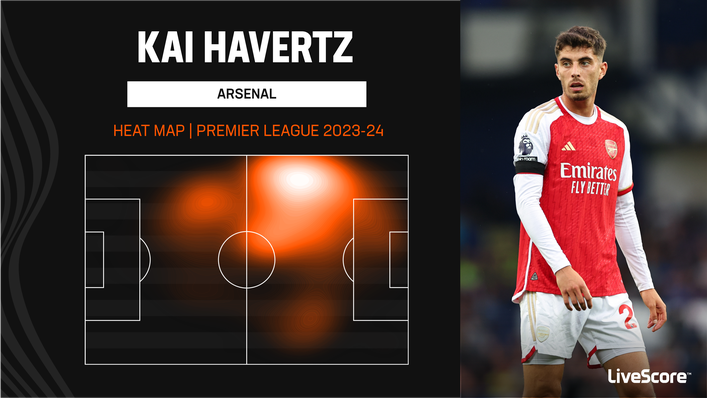 Exasperated fans
Though he started his career as a midfielder, Havertz was mainly played as a striker at Chelsea and is now having to adapt to the demands of his original role.
That transition has not been helped by there being a number of selection changes in the defence behind him, particularly in the inverted left-back position.
The Emirates crowd vocalised their exasperation with Havertz during a disappointing performance against Fulham last month, which saw Arteta asked if the new signing could win over the fans.
He said: "Yes, I think. I think he's done already really good things.
"It was tough for him in certain moments, he got in great areas and the ball didn't arrive.
"He's had a lot of situations, he should have scored already a lot of goals this season, and that's the thing that is missing there."
Chelsea flop
It is common for a player to feel under pressure to deliver when they join a big club. For Havertz, it has been amplified by his previous failures at Chelsea.
Having been played so often as a centre forward by the West Londoners, a tally of 32 goals and 15 assists in 139 appearances was a meagre return.
Havertz left Stamford Bridge under a cloud from which he has not yet emerged at Arsenal.
In such circumstances, making the attacker a regular starter from the off was perhaps a risk by Arteta, albeit one that might have paid off had he scored a confidence-boosting early goal.
As Arsenal now reach a stage of the season where they are playing two games a week, rotation is inevitable and that can be a positive for a player trying to find their form.
With the spotlight no longer shining so brightly, Gunners fans will hope that Havertz can rebuild his diminished confidence.
Tags