In Focus: Bellingham and Saka are England's present and future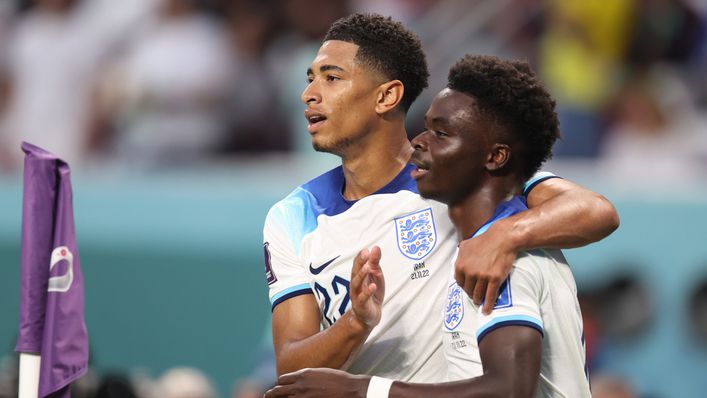 England made an impressive start to their World Cup campaign on Monday and it was their two youngest players that were the key performers.
Jude Bellingham and Bukayo Saka both found themselves on the scoresheet in a 6-2 win over Iran.
Bellingham, 19, controlled the game from his midfield position and opened the scoring with a brilliantly placed header, while Saka, 21, contributed two fine goals from the right of England's attack.
Ahead of the Three Lions' second Group B match against the United States, we look at what can be expected from the talented team-mates in Qatar and what the future might hold for them.
Iran destroyed
Both starlets came into the tournament in great form for their respective clubs and their performances against Iran suggest they will maintain such levels throughout.
Bellingham has developed into one of Europe's most sought after players during his time at Borussia Dortmund.
Now in his third season at the Bundesliga club he has stepped up and added goals to his game, scoring nine in 22 appearances — including four in the Champions League.
But as good as his header against Iran was, the former Birmingham youngster's first goal for England was far from being the most impressive aspect of his performance.
The accuracy of his passing, general calmness and timing of forward runs all caught the eye.
Saka has been one of the most important figures behind Arsenal's rise to the top of the Premier League.
Against Iran, the accuracy and variety of his finishing was displayed. The No17 scored England's second with a well-hit volley and added the fourth goal with a calm finish after a mazy run.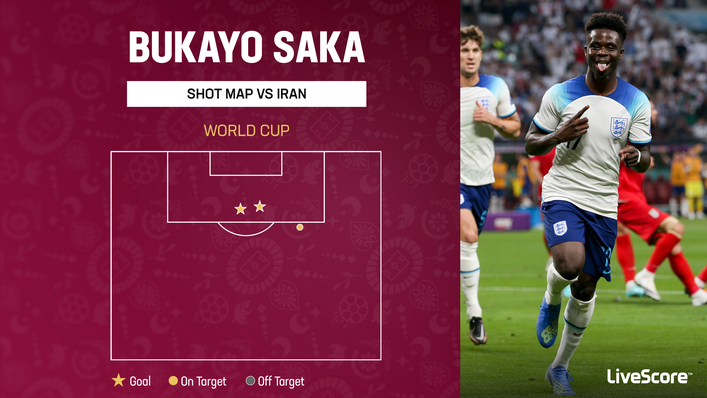 Importance to England
If Saka can maintain his goalscoring form, England have a front three that will be truly feared at this tournament.
As the Golden Boot winner at the last World Cup, skipper Harry Kane has proven potency on the international stage, while Raheem Sterling scored three times at Euro 2020 and was on target again on Monday.
Having an attacking trio who can all contribute goals makes England a dangerous proposition.
The movement of Saka and Sterling against Iran impressed, as they drifted into central positions when Kane dropped deeper.
Perhaps more crucially, Bellingham looks equipped to finally solve a problem that has plagued a succession of England managers.
English football has generally failed to produce the type of midfielder that can control a game at international level.
When such figures have emerged — such as Paul Scholes and Michael Carrick — their talents have been wasted but the hope is that Bellingham can buck that trend.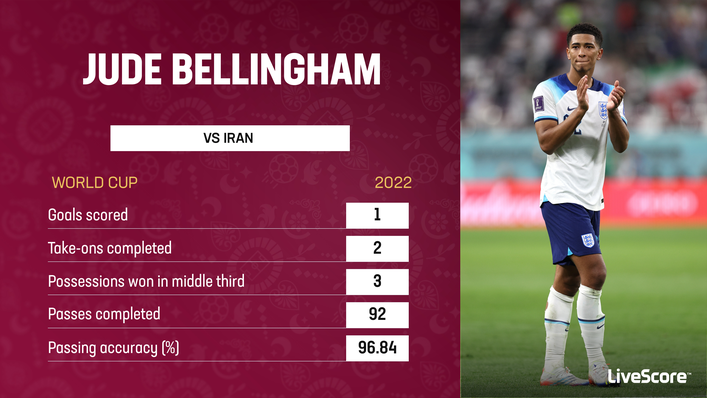 Formation tweaks
England started the World Cup with a 4-2-3-1 formation utilising Mason Mount as the central attacking midfielder in front of a base of Bellingham and Declan Rice.
Though the shift from a back three to a four-man defence saw England look dangerous in attack, Gareth Southgate will be concerned that his side conceded twice.
Switching to a 3-4-3 formation would come as no surprise, particularly if England face tough opposition in the knockout stages.
Such a change might mean Bellingham has less license to go forward and would instead have to concentrate on that deep-lying playmaker role, which has so long been a problem for England.
Saka's position on the right looks assured.
Though Mount could play in the front three if Southgate elects to add an extra central defender to the mix, it seems impossible that Saka would be jettisoned after his performance in the opener.
The only scenario that could see him moved from the right of the attack is if Luke Shaw gets injured.
With no natural cover for the Manchester United defender, Saka would be a possible solution as a left wing-back.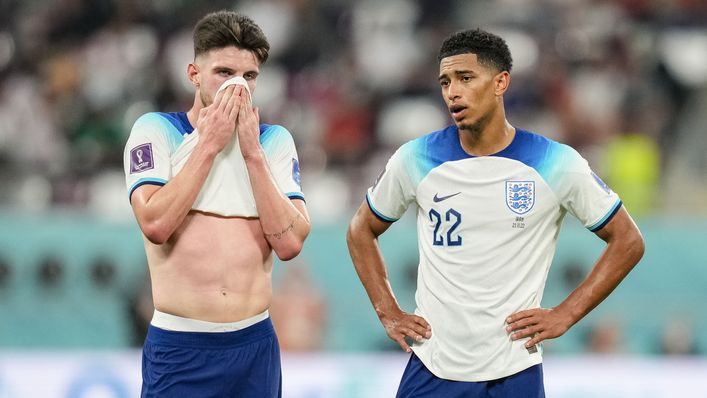 The future
With Bellingham and Saka being so young, England fans can look forward to seeing them in many tournaments to come.
Bellingham has the all-round ability to fulfil a number of midfield roles. He could be a goalscoring box-to-box player in the style of Steven Gerrard, a probing No10, or become the aforementioned controller of England's midfield.
Much will depend on where he ends up at club level and how he is employed at his new home, with a move from Dortmund likely in the summer.
Saka's future for club and country seems more assured. Arsenal's development suggests their ambition can match their academy star's supreme talent, with a new contract in the offing.
For England, Saka has beaten off stiff opposition from a varied band of attacking wide players.
If he can develop his reliability in front of goal, he will be a fixture alongside Kane and Sterling in the short term and even become the man to burden the scoring responsibility in years to come.
Tags