In Focus: Ramsdale ready for England No1 battle in Toffees test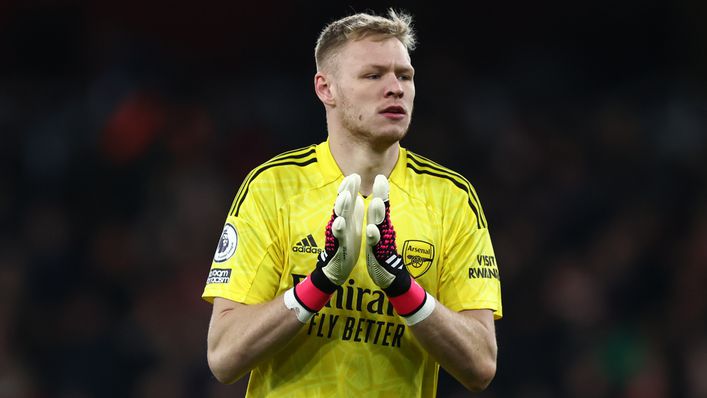 As Premier League leaders Arsenal travel to face Everton, there is more than just three points at stake for England international goalkeepers Aaron Ramsdale and Jordan Pickford.
Toffees stopper Pickford has been Gareth Southgate's undisputed first choice between the sticks since the 2018 World Cup.
However, Ramsdale may feel that his performances for the title-chasing Gunners merit a rethink from the England manager.
We analyse the two custodians' qualities ahead of today's clash at Goodison Park to ascertain who should be the Three Lions' No1.
Southgate's support
Pickford has arguably never faced more competition for his place in England's starting line-up, with both Ramsdale and Nick Pope emerging as credible contenders.
However, the Everton star has always been backed by his national team manager, with Southgate hailing his credentials in March last year — though the 52-year-old made sure to encourage healthy competition too.
He said: "He [Pickford] has always played well for us. He has a good focus with us and a very good relationship with [England goalkeeping coach] Martyn Margetson, who I think does an excellent job with him.
"He knows the structure around him and he knows clearly how we want him to play.
"Look, there is competition for everybody's position and that's what we want.
"We don't want people just sitting thinking confidently that there's no competition. That doesn't help the team. The form of the other goalkeepers is important."
Shot-stopping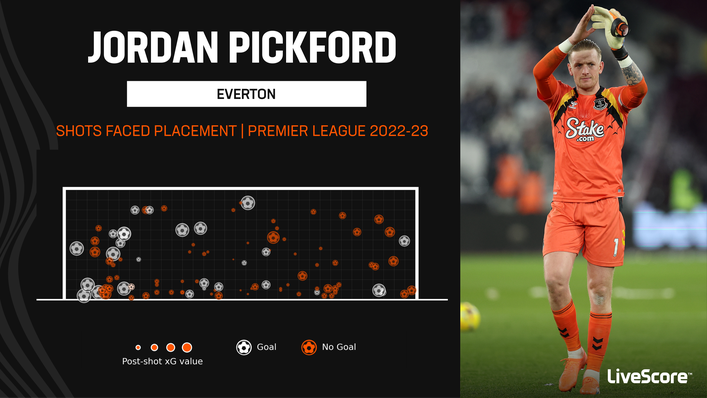 Ever since he burst onto the scene with boyhood club Sunderland, Pickford has caught the eye largely due to the high volume of saves he makes.
This season has been no different. Only Fulham's Bernd Leno and Brentford's David Raya have made more stops in the Premier League this season than his total of 73.
And the Englishman ranks second in the division for saves made from shots taken inside the box (54), behind only Leno.
Ramsdale, meanwhile, has recorded 44 saves, 31 of which came from shots inside the box — the 16th and 15th-best totals in the division, respectively.
Adding context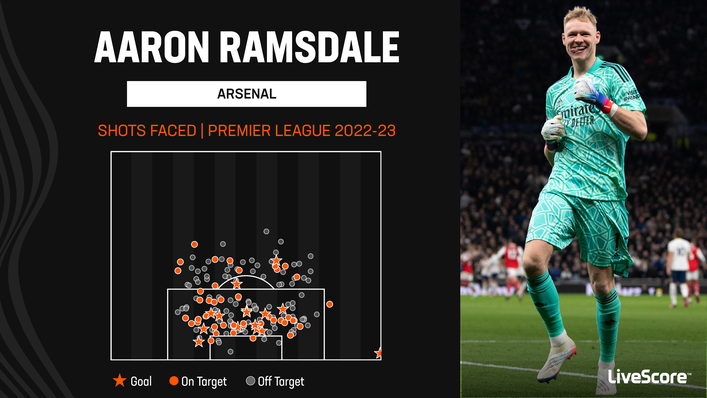 Those raw save statistics must be looked at within the context of the two goalkeepers' respective teams, however.
Everton have conceded more shots from inside the box than any side in the Premier League (220), while their 100 shots faced from outside the area is the joint fourth-worst record.
Arsenal, meanwhile, rank second in the league for shots conceded from inside the box (109) and third for efforts faced from outside of it (54).
Those numbers go some way towards explaining why the Gunners boast the second-best defensive record in the division (nine clean sheets and 16 goals conceded) — and why the Toffees' totals of four shut-outs and 28 goals against is significantly poorer.
Passing ability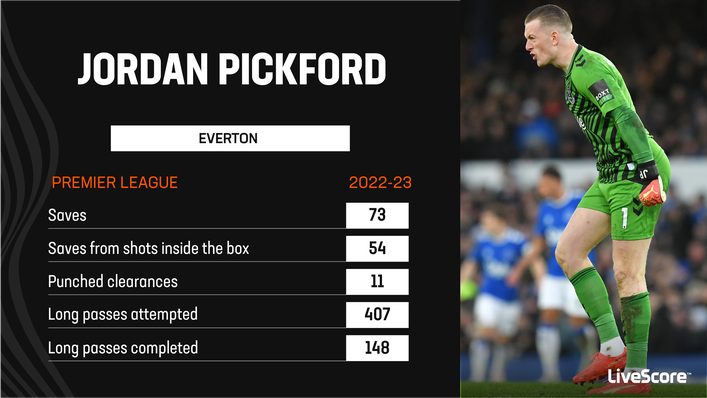 One of the fundamental ways in which the signing of Ramsdale has improved Arsenal has been the 24-year-old's ability with the ball at his feet.
Former No1 Leno was an excellent shot-stopper but when it came to playing out from the back, the German fell short.
The position Mikel Arteta's men find themselves in is in no small part down to their newfound capacity to play through their opponents' press with Ramsdale between the sticks.
Pickford's approach to distribution is rather different. He ranks third in the Premier League for long passes attempted (407) and completed (148), tending to go direct with a higher proportion of his passes.
Head-to-head
Pickford is likely to be the busier goalkeeper at Goodison Park this lunchtime, given the teams' respective positions in the table.
However, there is much at stake for both clubs — and a decisive contribution from either stopper could prove crucial in the title race and relegation battle.
Ramsdale has more to prove as he attempts to oust his compatriot from his long-held England starting spot.
But if he can inspire Arsenal to a victory that ultimately helps them on their way to a Premier League title, he may just give Southgate a difficult decision to make.
Tags