In Focus: Bowen has Hammers knocking on the door of Europe's elite
Mitchell Fretton
LiveScore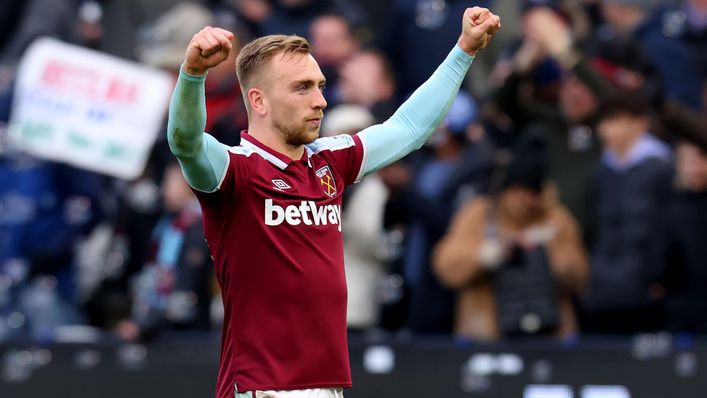 West Ham have had another excellent season so far under David Moyes — the Hammers are just one point off Arsenal in fourth.
And the Scotsman owes a debt of gratitude to in-form Jarrod Bowen who has been brilliant in the claret and blue shirt this season.
The forward has accumulated three goals and seven assists in the Premier League this season but what is it that is making him stand out?
We take a look at the 25-year-old in more detail and discuss his contributions during the campaign.
Never giving up
When Bowen made the switch from Hull to West Ham, a wave of expectation followed him as he pulled on the No20 shirt for the East London side.
His £20million-plus transfer fee gave Irons fans the impression that they were signing a talented youngster who would make an immediate impact — but this was not the case.
The Englishman signed a five-and-a-half-year contract on transfer deadline day of January 2020, having scored 54 goals for the Tigers across 131 appearances.
Bowen featured 13 times in the 2019-20 campaign but scored only once to the disappointment of many fans inside the London Stadium.
However, it may have been the case that Bowen simply needed to adapt to life in the Premier League — he managed eight goals and five assists the following season.
His determination to prove himself to the West Ham faithful meant that he became a regular in the team and is certainly a favourite of Moyes.
The Leominster-born speedster featured in all 38 Premier League matches for the Hammers last season and is yet to miss out this time around.
Adding goals to his game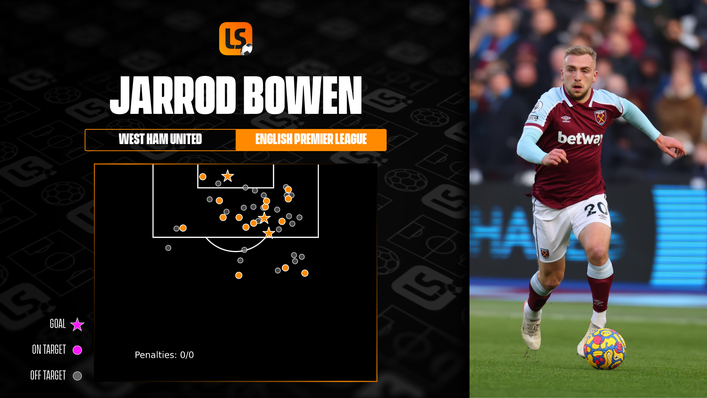 Bowen has been a star man for his club in the first half of the season, but a return of just three goals from 20 league appearances is not very pleasing.
In the absence of Michail Antonio, Bowen often fills the No9 role usually occupied by the Jamaican.
And he has proven his worth when leading the line — Bowen scored an excellent strike in the Carabao Cup quarter-final defeat to Tottenham.
But even when he is deployed as a winger, Bowen often finds himself with a sight of goal at some stage of the match.
If he were able to increase his output, West Ham would be able to tally significantly more than the 37 goals they have scored in the Premier League, which is already an impressive amount.
Blowing away the doubters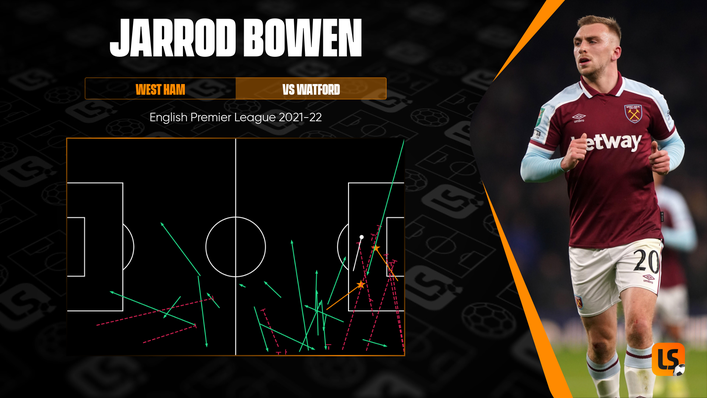 Bowen's performances speak for themselves but words of praise from Moyes will have been music to the former Hereford United player's ears.
The seasoned veteran has been managing at the top level for many years but has still found himself stunned with how well Bowen has played over the course of the season.
He said: "Jarrod Bowen has been really impressive this season and he deserved those assists at Watford.
"He's kicked on this season and I don't think it's solely down to fitness. I think it's more down to having time to adapt to the Premier League.
"If there was a player who hit the ground running more than anybody, it was probably Jarrod.
"He's certainly showed a level of consistency enough to keep getting us assists and goals which will be really important."
On Liverpool's radar?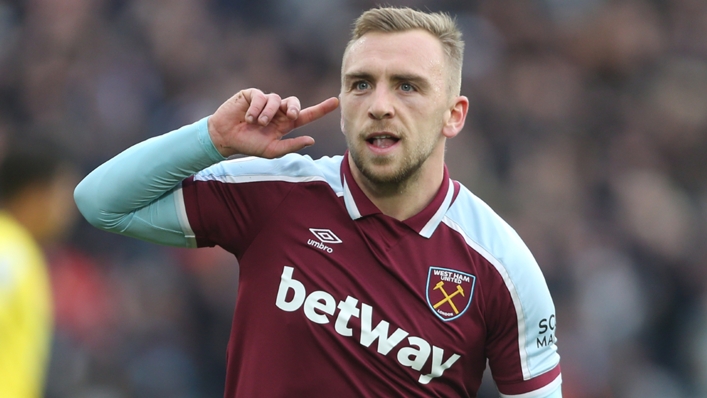 Bowen's improvement over the last year has been linked to the success at West Ham but his performances have been catching the eye of top clubs in England.
The hotshot has been linked with a potential move to Liverpool, where he could line up as a potential replacement for Mohamed Salah who is nearing the end of his contract.
Jurgen Klopp has even singled out the ace, saying: "I like Bowen a lot, he made his way up from Hull and took not too long to show exactly what kind of player he can be in the Premier League. He made big steps."
But Moyes was quick to shut down any speculation around the player, saying: "Well, Jarrod's at a top club now.
"It's the level of consistency Jarrod now needs to bring to his game. We are trying to up his goals and his assists. All those things like that."
What can he achieve?
The ability Bowen possesses is evident to those that watch West Ham on a regular basis.
It is true that the trickster does need to improve some aspects of his game, especially his final product, but his work rate and determination on the training ground tells us that it will get better.
Gareth Southgate will have certainly been keeping an eye on Bowen, with the prospect of a potential England call-up a massive motivation.
But his goal will be to help his side claim a spot in next year's Champions League — something that is not unrealistic for the Hammers.
If he continues to improve under Moyes, he may not need to leave the London club if they are playing in Europe's top competition.
Either way, Bowen has certainly impressed this season and he will be hoping to carry his form into 2022.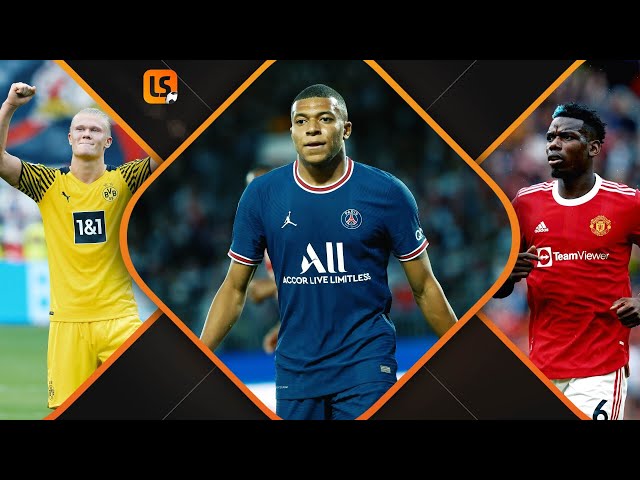 Tags