In Focus: Blues Hav to ease burden on goal-shy Kai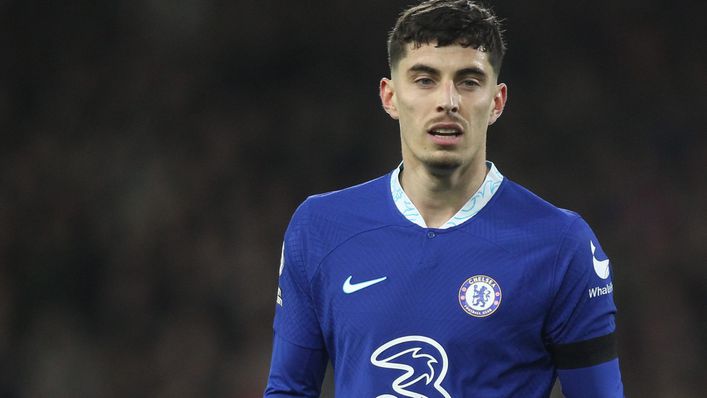 It has been some time since Chelsea had a prolific goalscorer leading their line — and Kai Havertz is struggling to solve the conundrum.
The 23-year-old German has netted just five times in 22 appearances this term across all competitions, one shy of the club's top scorer Raheem Sterling.
Boss Graham Potter is an admirer of the ex-Bayer Leverkusen starlet but with an increasing need for improved results at Stamford Bridge, his starting spot may soon come under threat.
Ahead of a showdown with champions Manchester City this evening, we take a closer look at what Havertz has been bringing to the table.
Mixed bag
On the face of it, the versatile attacker has been more than pulling his weight in West London recently.
His 12 efforts on target and 46% shot accuracy are comfortably better than that of his fellow forwards who start regularly, while a goal and assist against Bournemouth last week saw him named man of the match.
Yet when it comes to being Chelsea's chief threat, some remain unconvinced with Havertz's output.
Speaking after the Blues were held to a frustrating 1-1 draw with Nottingham Forest last time out, former Liverpool midfielder Graham Souness pulled no punches when assessing where the Londoners' issues lie.
Souenss said: "He [Havertz] is not going to get you enough goals. It is madness to sell Timo Werner, Romelu Lukaku and then spend £170million on three defenders.
"Football has never changed. The hardest thing to find is goalscorers. Spending £170m on defenders is great if you can afford it go out and do it, but the priority for me is you have sold two strikers.
"They weren't the answer, not long term or short term, but they were better than what they have got right now."
Improvement needed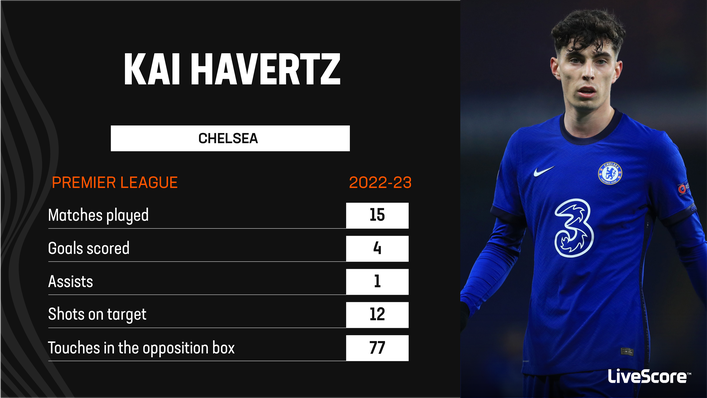 There is no doubt that Havertz has not yet found his top gear for Chelsea when it comes to finding the back of the net.
At Leverkusen, he bagged 46 goals in 150 games, while the youngster is going at an even more impressive ratio at international level having notched 12 times in 33 caps.
Yet for the Blues, 28 strikes in 114 matches to date equates to a goal-to-game ratio of 0.24 — significantly lower than the 0.30 and 0.36 hauls achieved with his old club and for Germany.
Meanwhile, a further dig into Havertz's record in England raises concern over the quality of sides he generally nets against.
A whopping 15 of his 17 Premier League goals to date have come against bottom-half opposition, while his overall tally of 28 also includes an FA Cup strike against Morecambe and an EFL Cup hat-trick against Barnsley.
Add in Champions League efforts against the relative lesser lights of Malmo, Lille and FC Salzburg and it is fair to conclude the German is somewhat of a flat-track bully.
Flashes of brilliance
Havertz has still enjoyed some memorable moments since arriving at Stamford Bridge, though.
He netted a famous winner in the 2020-21 Champions League final against Manchester City, while headers against Real Madrid and Liverpool last term showcased his impressive aerial prowess.
His ability to produce on the big occasion is not in question — more so his ability to do so on a consistent basis.
There have been encouraging signs for him since Potter took the reins, too.
Last week's strike against Bournemouth was his fourth since the ex-Brighton boss was hired four months ago and Havertz revealed he is enjoying working under the 47-year-old.
The youngster explained: "He gives me the freedom to do whatever I feel comfortable on the pitch.
"I like to play free and to be in the box. He gives me a lot of confidence."
Wider problem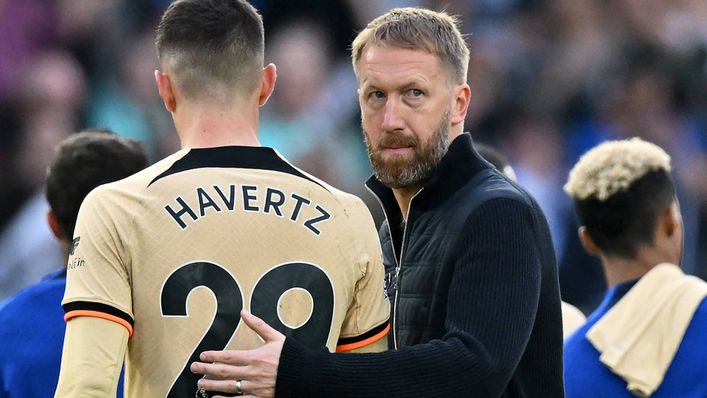 That admiration is mutual, with Potter taking the chance to shower praise on Havertz last weekend — as well as point out what his No29 brings to the table aside from goals.
The Blues boss explained: "Kai is only 23. He came into this country on the back of a fantastic period in Germany but he's still a young player.
"You can't do anything about the price tag and all that goes with that, and there's an expectation, but he's still a young player that's learning the game and has fantastic quality.
"I think as a nine he gives you the flexibility and variability in the game. He can drop in, but he can also threaten the backline and he can score. So I like him in that position."
Perhaps the real issue for Chelsea is expecting their £75million man to be sat at the top end of the Premier League goalscoring charts.
The abject failures of more established marksmen such as Lukaku and Werner should not be placed at the door of a versatile, developing youngster who ultimately brings so much more to the table.
Havertz is not your average No9 — and if the Blues want a natural goalscorer, they may need to get their chequebook out this month.
Tags