Al Nassr new boy Ronaldo claims his work in Europe is done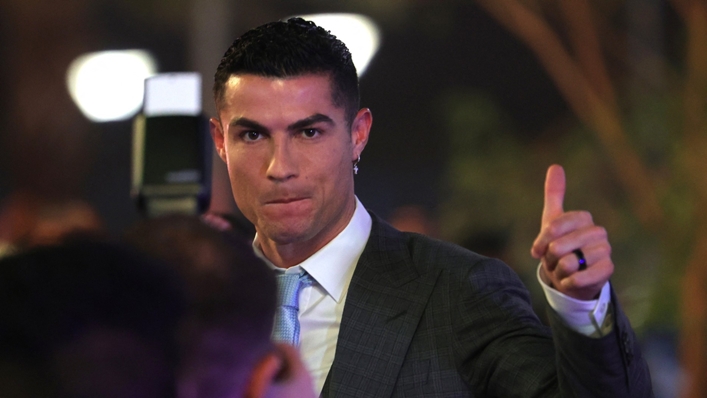 Cristiano Ronaldo is unfazed by criticism of his decision to join Saudi Pro League side Al Nassr, declaring that his "work is done" in Europe.
Having seen his Manchester United contract terminated in November after criticising the club in an interview with Piers Morgan, Ronaldo sealed his move to Al Nassr last week.
His decision to join the Riyadh-based side has surprised many, with it coming just a few months after Ronaldo attempted to leave United in search of Champions League football.
However, the 37-year-old believes he has nothing left to prove in European football, claiming he turned down proposals from several clubs to sign his two-and-a-half-year deal with Al Nassr.
"I'm so proud to make this big decision in my life and in football," Ronaldo said at his unveiling on Tuesday.
"In Europe, my work is done. I won everything and played for the most important clubs in Europe.
"This is a great opportunity for me, not only in football but to change the mentality of the new generation in Saudi Arabia.
"I had many opportunities in Europe, in Brazil, in the United States and even in Portugal, but I gave my word to this club, for the opportunity to develop football in this amazing country."
The forward sees playing in the Saudi Pro League as a genuine challenge, hitting back at those who have questioned the motives behind his move.
"Many people speak and give their opinions, but really they know nothing about football," Ronaldo said.
"If you give the example of the World Cup, the only team who beat the champions [Argentina] was Saudi Arabia, don't forget that.
"For me, it's not the end of my career. I wanted to change and I don't worry about what people say. I took my decision and I have responsibility for it.
"I'm happy to be here and I know the league is really competitive, I saw many games. I'm ready to play tomorrow [against Al Ta'ee] if the coach thinks it's good!
"I beat all records in Europe, so I want to beat all records here. This contract is unique, because I'm a unique player. So for me, this is normal.
"I'm coming here to win, to play, to enjoy, to be part of the success of the country and the culture of the country. What I want is to enjoy, to smile and to play football."
Tags