Script is written for maligned Morata to inspire Spain to Euro 2020 glory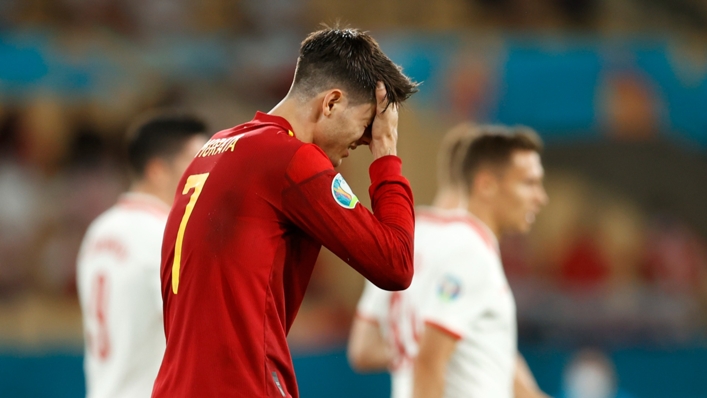 Watching Alvaro Morata toil at Euro 2020 has been almost tragic, with every miss seemingly guaranteed to invite some form of pile-on, whether on social media or from fans inside the stadium.
Rarely do footballers inspire feelings of sympathy, with fans perhaps generally forgetting that these entertainers performing for our satisfaction are humans too, carrying out a job like any other member of society.
Maybe it is the money they're paid that prevents certain individuals from feeling empathy for footballers, but surely even the most vociferous cheerleaders of "footballers' wages for soldiers" and other comparable arguments must have felt some kind of compassion for Morata at one time or another during this tournament.
Even before a ball was kicked, Morata was already a hot topic of conversation after he was widely jeered by the home crowd during Spain's 0-0 warm-up friendly draw with Portugal at the Wanda Metropolitano, the home of the club – Atletico Madrid – that owns him. Just 11 days later it was confirmed he would be spending another season on loan at Juventus rather than return.
While Spain as a collective were booed in that game, Morata certainly bore the brunt of it, the crowd making their opinions known after he had wasted four chances. One of those hit the crossbar, meaning he was literally a matter of inches away from winning the match and capping off an otherwise impressive individual performance with a goal.
It has been much the same story during the tournament. No matter how many of those associated with the squad – including Luis Enrique, Dani Olmo, Koke and Aymeric Laporte – publicly defend their colleague, it seems the boo-boys have their target and will not waver.
And the particularly sad aspect of it all is that Morata revealed in a recent interview that even his wife and children have been victims of the abuse when attending Spain's group games at La Cartuja.
But has Morata even been that bad at Euro 2020? Generally speaking, you would have to say no.
Now, there is undoubtedly an elephant in the room: his wasteful finishing. No one is going to try and convince you Morata has been effective in front of goal – after all, the data says the exact opposite as his one goal comes from an xG (expected goals) value of 2.9.
In fact, only his team-mate Gerard Moreno has a worse xG differential (2.1) in the group games at Euro 2020, so there's no getting away from the fact Morata has not been clinical enough. On top of that, Morata has missed more Opta-defined "big chances" (four) than any other player in the tournament.
This isn't a new phenomenon, though; since the start of 2017-18 only Lorenzo Insigne (7.8), Gabriel Jesus (9.85) and Edin Dzeko (16.85) have underperformed their xG by more than Morata (7.3) among forwards in the top five leagues (minimum 40 goals scored).
Additionally, among the same group of players since 2017-18, only Alassane Plea (70.3 per cent) has missed a greater proportion of his big chances than Morata (66.4 per cent).
But, intriguingly, no one had more shots on target during the group stage at Euro 2020 than Morata, his six from 11 attempts exactly the same as top-scorer Cristiano Ronaldo.
This suggests the problem is an age-old one with Morata: composure. So much of this part of the game comes down to mentality, and mental health is something Morata has commendably been open about for much of his career.
He previously spoke about how mental illnesses should be considered ailments much like physical injuries, and in 2018 he revealed he was seeing a psychologist while at Chelsea.
In that sense, if we consider the incessant abuse of him, Morata's arguably performing better than anyone could feasibly expect.
Now, that raises the question of whether Luis Enrique should have taken Morata out of the firing line before things reached this stage.
It surely cannot be conducive to positive mental health to have 16,000 people enthusiastically communicating that something doesn't impress them much, as if Morata was performing keepy-uppies on stage at a Shania Twain concert.
But the striker insisted last week that he has found himself motivated by the jeers, particularly prior to the penalty against Slovakia. Admittedly, he did miss it.
"I'm proud of the fact I picked up the ball [to take the penalty] after people booed me in the warm-up," he said. "A few years ago, I would have been devastated but I'm really motivated. Whoever thinks the opposite doesn't know me."
It's also worth considering that, while there have been problems with Morata in front of goal, he has otherwise been a positive influence on the team.
For example, Spain's six shot-ending high turnovers have only been bettered by four teams following all group fixtures, while Morata fits into that philosophy given the fact he has won possession in the final third three times – only Memphis Depay and Ronaldo (four each) managed more in the group stage among forwards.
Similarly, Morata brings bursts of positivity and drive to Spain once he gets on the ball, as demonstrated by the fact he has recorded eight progressive carries measuring between five and 10 metres. The only out-and-out strikers to do better in the group stages were Alexander Isak and Ronaldo.
It is also worth bearing in mind that Morata ranks in the top 10 for forwards involved in open-play sequences that end in a shot (12), while his 24 touches in the opposition's box ranked him second behind Kylian Mbappe (27) ahead of the knockout fixtures. Both statistics are further evidence that he has been actively involved in keeping Spain in the ascendancy.
Unfortunately for Morata, many will look no further than chances converted when evaluating a striker's performances, and in tournament football when the action is so condensed, conclusions are 100 times more reactionary. Just ask Harry Kane.
But as long as Luis Enrique retains faith and the opportunities keep coming, there remains the chance of a Hollywood-esque conclusion to the hard-on-his-luck tale that has seemed to epitomise the past few years of Morata's career.
In a 2006 biopic of stockbroker Chris Gardner's life, Will Smith portrays a man who has to overcome countless setbacks on his path to making a name for himself.
The script is written for Morata to become the decisive player in a victorious Euro 2020 campaign for Spain, giving him his own successful Pursuit of Happyness.
Tags