Dodds: I don't think we should move our showpiece final to suit anybody
PA Sport staff
Press Association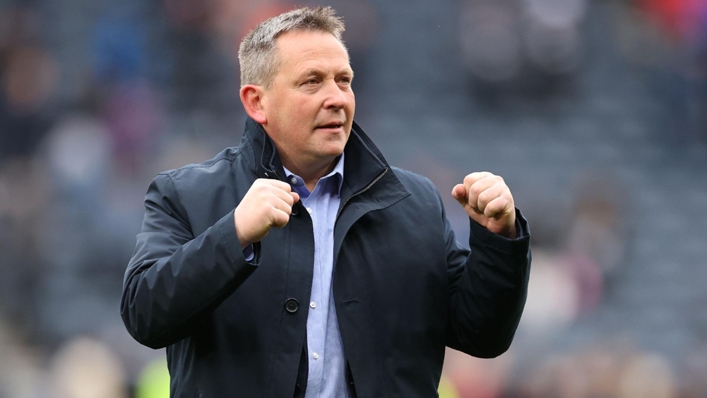 Inverness manager Billy Dodds has argued the traditional Scottish Cup final kick-off time should not be moved to suit anyone else.
Both Caley Thistle and Celtic expressed major disappointment after it was announced their Hampden meeting on June 3 would kick off at 5.30pm in a break with a long-standing convention.
The evening kick-off for the game, which will be shown live on the BBC and Viaplay, appears to have been moved so as not to clash with the Manchester derby FA Cup final, which kicks off at 3pm and will be screened in Scotland by both the BBC and STV.
Celtic criticised a lack of consultation after the Scottish Football Association made the announcement and Dodds feels the situation is unfair.
In a clip shown by BBC Scotland, the former Rangers striker said: "Any time I have been involved in Scottish Cup finals as a player and a coach, you can't beat three o'clock on a Saturday for your showpiece but suddenly it's gone to 5.30 which is a shame for our game up here because, for me, others are getting looked after better.
"It's not ideal. I don't think we should ever move our showpiece final to suit anybody.
"I can only imagine it's for TV rights or something and we don't want to clash.
"It's not ideal for me but I'm just glad we're there. I would rather, like everybody else, 3pm on Saturday should be your showpiece final."
From a players' perspective, Celtic midfielder Matt O'Riley was not too concerned but expressed sympathy with Inverness fans, the majority of whom are set to spend their post-match Saturday night out on buses.
O'Riley said: "I don't mind. I suppose because it's a bit later we get to sleep a bit more, so that's one positive.
"It's another game, a different time of day and if you win it you win a trophy, that's the main thing."
Asked about the possible problems Inverness fans could have in getting back home after the game, he said: "I didn't really think about that but I'm sure that's quite brutal, but they can probably make the most of a night out in Glasgow if they chose to."
Tags