Hamann repeats plea for Germany to sack Flick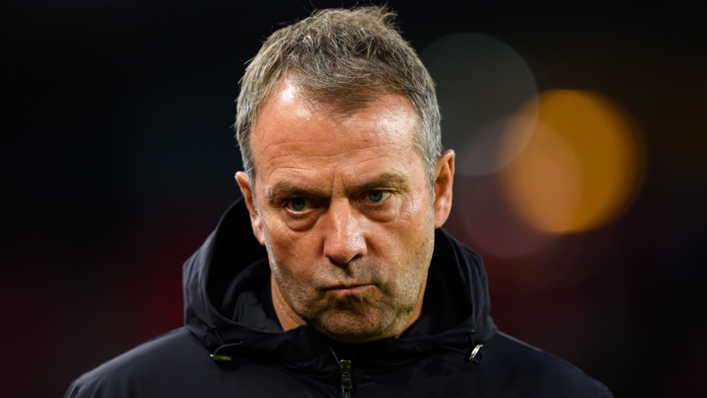 Dietmar Hamann worries it is "too late" for this Germany team as he called again for coach Hansi Flick to be sacked following Tuesday's defeat to Belgium.
Hamann was a vocal critic of Flick following the 2022 World Cup, where Germany exited at the group stage for the second consecutive finals.
Former midfielder Hamann wanted the coach to go then, and his stance was not softened by the March internationals.
With Germany hosting Euro 2024 and therefore absent from the qualification process, they played friendlies against Peru and Belgium.
A 2-0 win over Peru in Mainz was followed by a 3-2 defeat to Belgium in Cologne, in which Hamann suggested "it could have been 0-3, 0-4 or 1-5 in the first half".
Speaking to Sky Sport, the pundit said: "Nothing has changed at all.
"The team that started yesterday included eight World Cup players. [Florian] Wirtz and [Timo] Werner were also in the starting line-up, who were not there in Qatar due to injury.
"Marius Wolf was the only one who played against Belgium who wasn't at the World Cup. He did an excellent job in Dortmund in the last few weeks and months.
"So, it felt like there were 10 World Cup players in the line-up, and then I can't speak of a change.
"If [Flick] had let youngsters play and they had gotten under the wheels in the first half, then I would have understood because they would have learned something from it.
"But the way it was yesterday, that they play with the same players and we get served the same c*** as at the World Cup, sooner or later people will turn their backs on the national team."
Hamann felt that performance backed up his argument following a World Cup exit he had described as "pathetic".
"It's too late for me," he said. "I spoke after the World Cup, where it was clear to me that it's difficult to continue working with the coach when you're eliminated from the group for the second time in a row.
"I couldn't imagine it because you need a new impetus.
"They hid in Qatar, they let the team down, they didn't take responsibility. And if the coach doesn't take responsibility, then I can't expect the players to take responsibility.
"That's why I don't think the discussion [around Flick's future] comes too early. It's too late, for me, and they decided to continue with it.
"I have big, big concerns about whether things will get better in the coming weeks, months and then at the European Championships next year."
Tags