Halsey calls for points deductions to tackle referee abuse
Patric Ridge
Stats Perform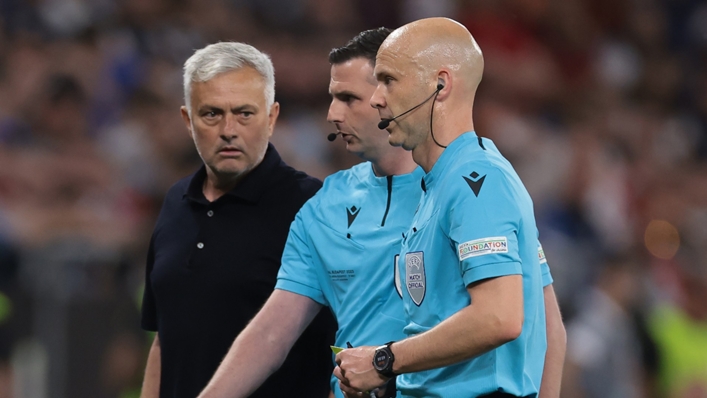 Jose Mourinho's behaviour and the subsequent abuse of Anthony Taylor by Roma fans has led to former Premier League referee Mark Halsey calling for stricter punishments.
Taylor and his family were verbally and physically targeted at Budapest airport in the wake of Roma's Europa League final defeat to Sevilla.
Both teams felt aggrieved by some of Taylor's decisions in the game, but Mourinho was particularly vehement, and was filmed shouting abuse at the official long after the final whistle had blown.
Halsey was infuriated by what he saw.
"Everybody that's seen the footage or watched the game, I thought both teams' conduct with their players and the coaching staff was appalling," Halsey told Stats Perform.
"On the night I thought Anthony [Taylor] and his team had a superb game under the most difficult of circumstances. When players don't want to listen, it makes it so very difficult for the referee.
"The referee can only referee what's in front of him. If I was being ultra critical, perhaps they should have removed team officials from the bench. But having said that, I thought they were outstanding on the night.
"Obviously, the criticism of him in the car park when [Mourinho] volleyed abuse again, I think it's appalling, and Roma fans having seen that, I think that's what led to the scenes that we saw at the airport. As much as everybody loves Jose Mourinho, you cannot do that. You cannot condone these actions.
"I think in the cold light of day, when he sits back down and looks at himself and his family looks at the way he behaves, I think they will think that he deserve everything that's coming his way regarding punishments."
Now, Halsey wants governing bodies such as UEFA to crack down on the abuse by enforcing points deductions.
He continued: "That was a showcase. The Premier League, the Champions League, Europa League are watched around the world by millions and millions of people, including children.
"In England, we have a problem at a grassroots level, we have a problem with youth football, we have a problem with parents. They watch that, and think they can get away with it.
"This season we've seen over £1.5million worth of fines dished out for player and team officials' behaviour on the field of play. Out of the 92 clubs, 52 have been charged £1.5m in fines. What does that tell you? That tells you that the fines are not working.
"So we've got to start with the points deduction right at the very top. In fact, that goes for if you're playing the Champions League.
"If Roma are in the Europa League next season, and Sevilla are in the Champions League, they've got to start with a points deduction. [They've] got to hit the clubs in the pocket, and take the points away.
"Those points could stop them qualifying for the knockout stages. They've really got to come down hard on them."
As for Mourinho, Halsey hopes the Roma boss faces a significant punishment.
He said: "I just think it was absolutely appalling. I've never seen a game like that and a referee treated like that anywhere.
"Even in my time as an official, I never ever got treatment like that, and I refereed all over the world. That's why I think that UEFA has got to come down extremely hard on Roma and José as well as Sevilla for their behaviour on the field of play."
Tags