Gudelj defends challenge on crocked Brazil star Neymar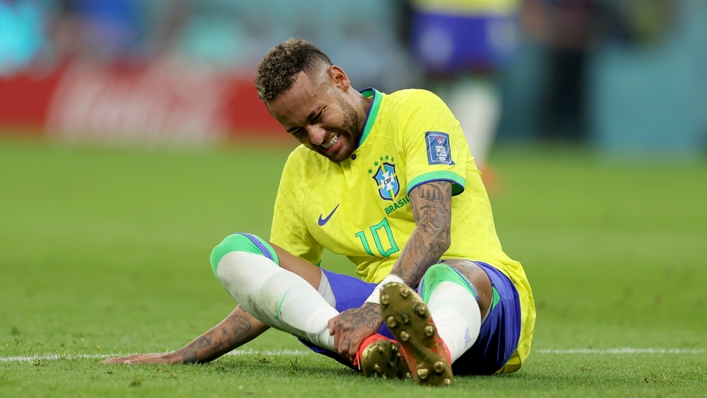 Nemanja Gudelj has defended the challenge on Neymar that may have led Brazil's star man to sustain his ankle injury in the victory over Serbia.
Paris Saint-Germain forward Neymar limped off in the 80th minute of the Selecao's 2-0 triumph on Thursday, having been subjected to nine fouls — more than any other player during the opening round of group games.
Neymar, who suffered what has been described as a lateral ligament injury to his right ankle, shared an update on his official Instagram account on Saturday, including photos of his heavily swollen foot.
Gudelj received a yellow card for his 49th-minute challenge — and was substituted eight minutes later — but the midfielder insists he had no intention of injuring his opponent.
"I didn't feel like I tackled him very hard myself," Gudelj told Dutch newspaper De Telegraaf. "I tried not to hit him hard and certainly not on his ankle. I think he got injured during another action, because he played on for a while.
"I felt I had no choice because Neymar is deadly when he enters the penalty area. It was a necessary foul in my opinion, but one that eventually cost me a substitution."
Serbia suffered their eighth World Cup defeat since 2006 after going down against Brazil, with only Australia losing on more occasions at the finals during this span (nine).
Dragan Stojkovic's side can reignite their last-16 hopes with victory over Cameroon on Monday, before their Group G campaign concludes against Switzerland four days later.
"We played too carefully in the second half [against Brazil] and showed too much respect," Gudelj added. "We collapsed, so we certainly asked for a goal against a team with as much quality up front as Brazil.
"Whether we have seen the future world champions at work, I don't know. But they are definitely one of the favourites. They are an excellent team with technical and dynamic players. They're definitely going to fight for the gold.
"We have faith in ourselves and hope. Of course, you can lose a game against Brazil, because they really have an excellent team.
"We just need to win two games now. So, we're going full steam ahead, with attacking football – the way we like to play."
Tags