Guardiola takes swipe at City fans and says he 'doesn't recognise' his side
Daniel Lewis
Stats Perform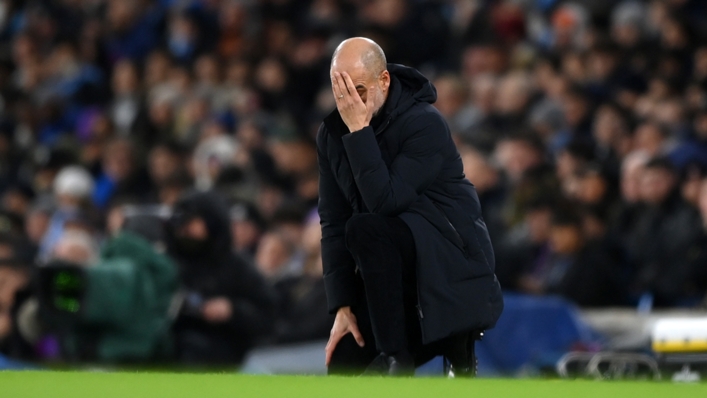 Pep Guardiola took a swipe at Manchester City's home support and said he "doesn't recognise" his side on current form, despite battling to a 4-2 win over Tottenham.
City were booed off the pitch when two goals behind in Thursday's Premier League match at the Etihad Stadium, facing a third straight loss for the first time since April 2018.
Ederson played Rodri into trouble and that allowed Dejan Kulusevski to fire Spurs ahead, before Emerson Royal profited from more sloppy play at the back to head in a second.
But City's response was just as emphatic the other side of half-time as Julian Alvarez and Erling Haaland had them on level terms by the 53rd minute.
Star man Mahrez assisted that Haaland goal – ending the striker's three-game scoreless run – before scoring two of his own to seal a superb second-half comeback.
It marks the second time City have recovered from two goals down and won a league game this season, having also done so against Crystal Palace in August.
While the win moved City within five points of leaders Arsenal, albeit having played a game more, a tetchy Guardiola was not happy with what he witnessed against Tottenham.
"We have to prepare better. I cannot deny how happy we are but we are far away from the team that we were," he told Sky Sports.
"Not in terms of play – we played good – but there are many other things, like competitiveness.
"We gave them the first goal. The second goal is ridiculous. There's nothing from the stomach, from the guts. We were lucky, but if we don't change we will drop more points."
Asked what was missing from his side, Guardiola said: "Passion, fire and desire to want to win from the first minute. Our fans were silent for 45 minutes.
"They booed because we were losing but in the second half we played good, we had more chances."
City have won the Premier League in four of the past five seasons, whereas surprise leaders Arsenal are chasing a first title in 20 years.
Guardiola's side still have to face Arsenal home and away, but the Catalan coach insists his side will not catch the Gunners unless something changes.
"Maybe it's the same with our team [as the fans]. Maybe we are so comfortable with winning four Premier Leagues in five years," Guardiola said.
"We have an opponent in Arsenal who have the fire. Two decades without winning the Premier League. Everything is so comfortable [at City] but opponents don't wait.
"I don't recognise my team. They [previously] had the passion and desire to run. We are far away from the team we had in previous seasons.
"Do you think this comeback will happen every time? It won't. Today we were lucky. If we want to win something or compete, then by complaining, complaining, complaining there is no chance we will win anything.
"It's my duty, it's my job [to get the fans back onside]. I want my fans back, I want my fans that are here – not my away fans, they are the best – but my fans here.
"They need to support every corner and every action, because Tottenham are one of the toughest opponents I've ever faced."
Guardiola was at least more upbeat when asked about the display of Mahrez, who now has 11 direct goal involvements against Spurs, making them his favourite opponent.
"What a player," Guardiola said. "Before the World Cup he was on holiday. Now he has realised, 'oh'."
City return to action on Sunday with a home match against Wolves, with that match kicking off ahead of Arsenal's meeting with Manchester United.
Tags