German minister calls for Russia, Belarus Euro 2024 ban
Joshua Challies
Stats Perform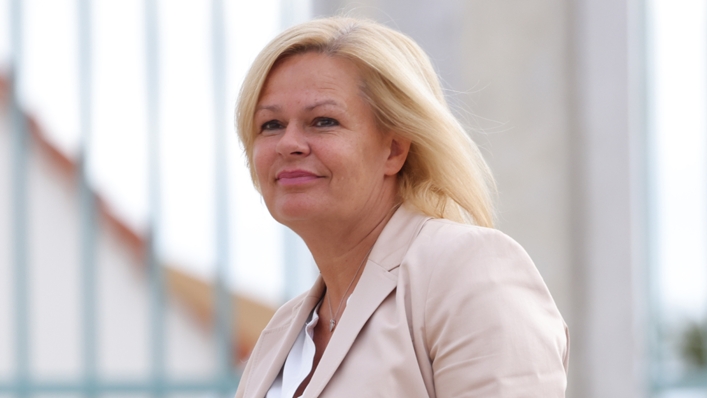 A senior German official has written to UEFA to request both Russia and Belarus are excluded from next month's qualifying draw for Euro 2024.
Following February's invasion of Ukraine, FIFA and UEFA issued a joint statement to confirm that Russia and Belarus, who are supporters of Vladimir Putin's regime, will be banned from competitions "until further notice".
That was followed up an update in May, where UEFA announced Russian clubs would be banned from continental competitions for the 2022-23 season, with Russia also excluded from the Women's Euros.
However, the European Championships in 2024, due to be held in Germany, were not mentioned in UEFA's most recent update.
That has led German federal minister of the interior Nancy Faeser, who oversees sport in her role, to write to UEFA president Aleksander Ceferin to call for both nations to be excluded from the qualifying draw, due to take place on October 9. UEFA did not comment on the matter but did confirm receipt of the letter.
German publication Der Spiegel carries reported quotes from the letter, which they say states: "Not only Russia, which is waging a war of aggression in violation of international law, but also Belarus as an essential supporter of the Russian leadership should be excluded from all international football matches and tournaments."
Faeser adds UEFA should include "the suspension of Russian and Belarusian officials from the influential bodies of international sports federations", as football must "live up to its responsible role and show a united stance against this form of disregard for human rights".
"All those responsible must be deprived of any possibility of sporting participation, influence or other representation."
The letter follows on from requests from Ukrainian Association of Football president Andriy Pavelko, who also requested Russia be excluded from next month's draw.
Tags