Game over for Real as Kessie winner puts Barcelona on home straight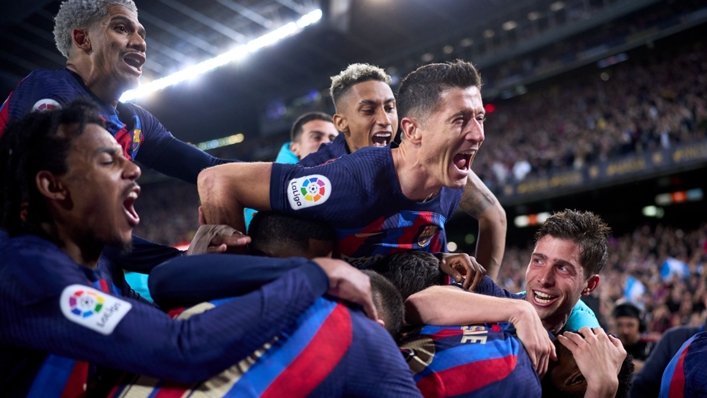 It all came down to this. El Clasico at Camp Nou on Sunday was Real Madrid's final realistic hope of reigniting LaLiga's title race, but Franck Kessie's dramatic late winner puts Barcelona practically out of sight.
While Barca coach Xavi had been keen to downplay the idea of this contest being in any way "definitive", only going as far as suggesting victory would be a "strong blow", it's difficult to imagine him actually believing those comments now.
Kessie's neat strike secured Barca a thrilling 2-1 win and their celebrations said it all. This was no standard Clasico victory – it was a win that should bury Madrid's title hopes once and for all, putting the Blaugrana a massive 12 points clear with as many games to go.
Were it any other team then perhaps Madrid might still retain a modicum of belief, but this is a Barca side that have only conceded five LaLiga goals all season to teams not named 'Real Madrid'.
What hope do they really have of Barca dropping at least 12 points? After all, no team has ever even overturned a nine-point lead at this stage in a season, let alone a 12-point deficit.
Yet it had all started so well.
It was particularly fitting to see the opening goal involve the two men routinely identified as the key battle in Clasicos these days.
Vinicius Junior has become a talismanic figure for Madrid, while Ronald Araujo has developed into one of the most dependable and formidable defenders in Europe.
Their tussles are now something of a feature in El Clasico, and this instalment produced a major early flashpoint.
Vinicius was allowed to run with the ball in the Barca box, and although he initially moved away from goal, he then jinked right towards the byline, his clipped left-footed cross hitting the head of Araujo and glancing past the helpless Marc-Andre ter Stegen.
While fortuitous, it was a swift reminder of the danger posed by Madrid's Brazilian winger after Barca had begun the game with a flourish.
The game's other Brazilian winger looked Barca's best bet to get on the scoresheet. A brilliant header – pushed away by Thibaut Courtois – a few moments before Araujo's own goal was Raphinha's first involvement.
He then produced a series of crosses before the half-hour mark, causing plenty of problems in the Madrid defence as Raphinha looked to test their suitability against an aerial bombardment.
Vintage Barca? Perhaps not, but there were signs of encouragement at least, with Andreas Christensen heading one such delivery agonisingly wide.
Raphinha's new-found influence and confidence was clear to see, and he then looked to take matters into his own hands as he shook off Nacho Fernandez and forced Courtois into a fingertip save.
So, just as it was unsurprising to see Vinicius instigate the opener, Raphinha playing a part in the equaliser was similarly predictable.
Well, sort of. Initially he drew cackles of derision from Madrid fans and simultaneous groans of bewilderment from the Barca supporters as his air shot saw a glorious chance go begging. But a few seconds later, on the stroke of half-time, it was his effort that was blocked right to Sergi Roberto, who coolly slotted out of Courtois' reach – 1.1.
It was a goal that seemingly restored real poise to Barca at the start of the second half, with Madrid initially looking even less of a threat than before the interval.
Part of Los Blancos' problem appeared to stem from a lack of invention. Everything went through Vinicius, and he was – for a while – the only Madrid player who looked likely to worry Barca.
As lively as he was, their dependency on him made Madrid largely one-dimensional, and unfortunately for them Vinicius couldn't do it all on his own.
For a moment that looked irrelevant. Substitute Marco Asensio stroked into the bottom-left corner in the 81st minute after meeting Dani Carvajal's pass. Suddenly Madrid's title challenge was reignited, only for those hopes to be brutally extinguished by a VAR check – Asensio was fractionally offside.
The sheer gut-wrenching disappointment sweeping across the visiting team was almost tangible. They'd gone from bedlam to broken in a matter of seconds, and what followed was a further, and surely fatal, body-blow.
Kessie finished from Alejandro Balde's cut-back to essentially leave Madrid needing two goals in stoppage time to salvage any semblance of hope.
Madrid will now have to carry on pretending to believe the near-impossible is plausible. In reality, it's game over.
Tags