Galtier: PSG working on next season's plans, including talks with Messi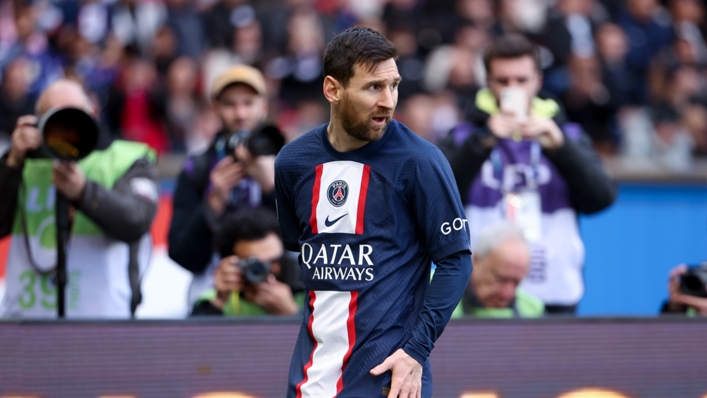 Paris Saint-Germain head coach Christophe Galtier is optimistic about the club's plans for next season, but admits there are parts of the setup that need improving "significantly".
PSG still have a seven-point lead at the top of Ligue 1 despite a 2-0 home defeat to Rennes in their last game before the international break.
Speaking ahead of Sunday's clash with Lyon at Parc des Princes, Galtier explained the work that is taking place to plan for the future, including discussions with Lionel Messi, whose deal expires at the end of the season.
The World Cup winner has been linked with a return to Barcelona as well as a potential move to MLS with David Beckham-owned Inter Miami.
"What will happen next season, we are working on it a lot, with management, with [director of football] Luis Campos," Galtier said.
"There is what we want to do but there are also the positions of each other, the club, the players. What we need to change quite significantly, what we need to improve quite significantly to be even more competitive.
"Regarding the future of Leo, there is the position of Leo, of the club, it is discussed between the two parties.
"I am focused on the 10 matches that come up to get this title. As for knowing what Leo or the club will decide, that remains very confidential."
Galtier also provided an update on Neymar, who suffered a season-ending ankle injury against Lille in February.
"During the break, he came in for an evaluation of his ankle post-op," Galtier explained. "We're talking with him a lot, we obviously follow his rehabilitation process.
"When there is an injury like this one, I like to give the player a bit of space, but we obviously keep in touch very regularly."
PSG have just 10 league games remaining this season, having been eliminated from both the Coupe de France and Champions League, and Galtier has used the international break to try and prepare his team as they look to seal the Ligue 1 title.
"We've had 10 days to work with a limited number of players," he said. "We've taken care of the little injuries, the players are coming back little by little. Tomorrow we will have a session focused on the game.
"Paris-Lyon is a classic fixture in this league. We need to get back to winning ways after Rennes, and get back on track in the final sprint."
Tags