From non-league to top-flight? Mpanzu story may have dream ending
Reuben Rosso-Powell
Press Association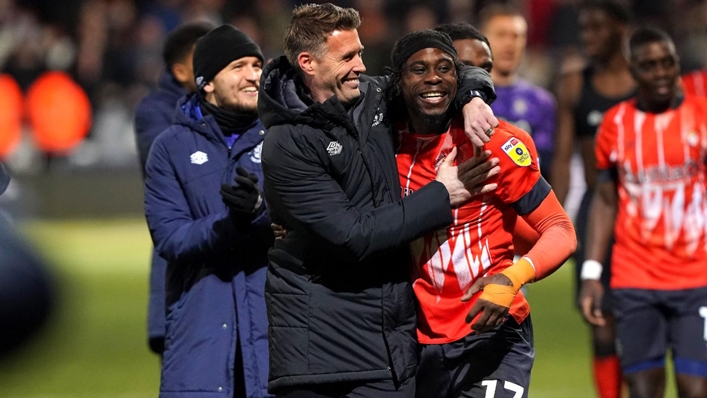 Rob Edwards admitted it would be an "incredible story" for Luton midfielder Pelly-Ruddock Mpanzu to reach the Premier League having been at the club since they were in the National League.
Mpanzu joined from West Ham in 2014 when Luton were languishing in the fifth tier of English football and a win on Saturday in the Sky Bet Championship play-off final against Coventry would be his fourth promotion in 10 seasons.
Over 300 appearances and nine years later, the 29-year-old is potentially 90 minutes away from reaching the top-flight and facing off with his former side next season.
"It would be (a great achievement). I need to stress that it would be an incredible story," Edwards said.
"I know people have gone from the National League to do incredible things but to do it with one club would be a great story and if we are able to do it there's not one person I would be more happy for than Pelly.
"He is such an important person around the place and an incredible man, he deserves it but it doesn't mean we are going to do it, we have to make it happen but it would be great for him.
"He's the heartbeat of the group because he's been here so long, an honest guy, very hard-working and he's just stepped up. To do one more level would be incredible."
Mpanzu felt his transfer to Luton was a risk but since praised the club's mentality and belief as a key factor to their stark success over the last decade.
And Luton's current longest serving player believed he would one day return to the Premier League.
"It has been a risk but here we are moments away from the Premier League, it's been a good experience and I don't want it to end on Saturday," Mpanzu added.
"I knew my ability would get me back there (Premier League), obviously you have got to have a great team around you and support, but when you have belief and know you can rise back to the top, Luton have done that in a short space of time.
"Going from non-league to the Premier League with one club would be crazy."
Defender Dan Potts played with Mpanzu at West Ham before rejoining his former team-mate at Kenilworth Road in 2015.
Mpanzu looked back at the pair's comeback story since leaving the Hammers, saying: "He followed me here and he told me he was signing.
"I told him the team is going places and he's been a good signing. He's stuck with me through thick and thin.
"It's mad we were both at West Ham and now one game away from the Premiership so it's been a real journey with him also."
Tags