Ex-Nice player Cardinale reveals Galtier 'alienated' dressing room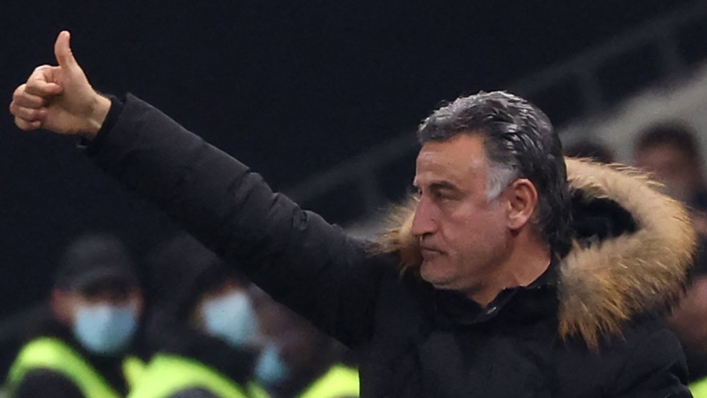 Former Nice goalkeeper Yoan Cardinale has given a stern warning to Paris Saint-Germain, revealing a fractious dressing room under Christophe Galtier.
Galtier is set to replace Mauricio Pochettino and take over as PSG boss, following the Parisian club's dramatic failure to claim the Champions League.
Nice were second in Ligue 1 at the end of January last season, but the proverbial wheels fell off, with four wins from 12 games between February and April before eventually finishing fifth.
Cardinale, who has been without a club since his contract expired with Nice at the end of the 2020-21 season, cited Galtier's negative impact on the dressing room as a factor and claimed his potential departure for PSG benefits all.
"Honestly, I think it's a good thing that he's leaving," Cardinale told RMC Sport. "For having had two or three conversations with players who are still in the Nice dressing room, there was a big break in the dressing room. There were a lot of problems.
"The coach alienated the dressing room to make himself heard better by management. What I was told, problems between the management of Nice and the coach had become so important that it was rubbing off on the dressing room.
"The coach put the dressing room on his back to be better heard by the management, in view of the signings which were arriving."
Meanwhile, Lucien Favre has been confirmed as Galtier's replacement at Nice, with whom he qualified for the Champions League in 2017, before being taking over at Borussia Dortmund in 2018.
Cardinale, who made 36 Ligue 1 appearances for Nice in that first season under Favre, reiterated his belief the coaching changes will benefit both clubs.
"I think this deal is going to be a win-win. Galtier will be happy," he added. "The Nice locker room, with the Favre's return, I think he's going to be a winner too. And in the eyes of the fans especially, it's the right pick.
Tags