Five weeks, three Clasicos, two titles – pressure is on Real Madrid to take matters into their own hands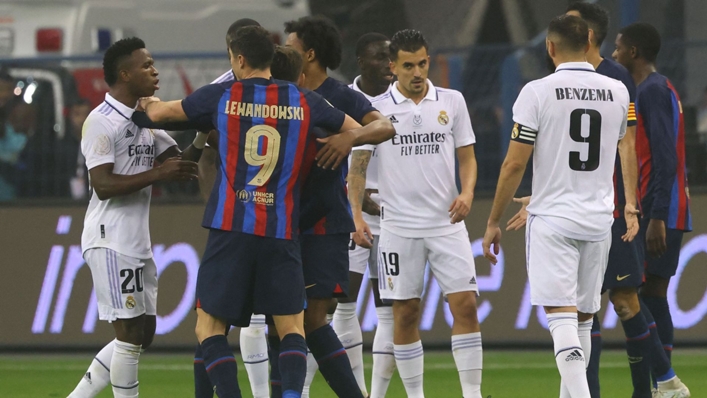 In the space of about 24 hours over the weekend, the outlook for Real Madrid and Barcelona changed considerably even if the table didn't.
While their results weren't exactly polar opposites, clearly Madrid came into a new week – the week of a Clasico – with more of a spring in their step.
Los Blancos were held to a draw by local rivals Atletico Madrid. While failing to beat such infamously obdurate opponents – even at home – may not be the most embarrassing of results, it was a bit of a comedown from the Anfield demolition they inflicted on Liverpool and, more crucially, there was a certain assumption about the outcome of Barca's clash with Almeria on Sunday.
As it happened, Barca fell to a shock 1-0 loss. They went from an assumed 10-point lead at LaLiga's summit to being seven points clear of Madrid.
In the context of a seven-point lead, it does seem a little daft to be trying to frame Barca's situation as anything other than positive, but they're undoubtedly going through a testing period – arguably their trickiest such spell of the season.
Sunday's surprise defeat came just three days after Europa League elimination by Manchester United. Although their 4-3 aggregate defeat was close on the scoresheet, not even ardent Barca fans would suggest they were deserving of progression – Erik ten Hag's men were, over the two legs, the better team.
Of course, it's not possible to say at this point whether the past couple of weeks simply represent a minor blip for the Blaugrana, or if it's part of something broader.
But Thursday's Copa del Rey semi-final first leg against Madrid is the start of a spell that includes three Clasicos in just over a month.
It's a period that will almost certainly define Madrid's season, and potentially Barca's.
In LaLiga this season Barca have been far more consistent – in terms of results – than Madrid. Since their mid-October meeting, a 3-1 win for Carlo Ancelotti's men, the defending champions have dropped points six times in the league; Barca have won 12 of 14 matches.
But Barca's form in Europe this season has understandably raised concerns. Two defeats to Bayern Munich, one to Inter, a fortunate draw and loss agains United – it does bring into question their ability to rise to the occasion in the biggest games, and against the teams who are willing to take the fight to them.
Of course, the most recent Clasico was something of an exception. In that mid-January contest, Barca quite comprehensively picked Madrid apart in the final of the Supercopa de Espana, winning 3-1 in Riyadh. They were even 3-0 up for 21 minutes until Karim Benzema's very late consolation.
That appeared to be a statement win, but the make-up of their team on Thursday will be rather different to seven weeks earlier.
Two of the three goalscorers – Pedri and Robert Lewandowski – will be absent. Also out is Ousmane Dembele, usually the provider of the kind of explosive pace and unpredictability that can stretch any team.
With key injuries, decreased morale, and back-to-back defeats for the first time since last April, Barca couldn't have picked many worse times to descend into difficulty. But then again, could there be a better time to beat Madrid?
Clearly, Almeria did Madrid a huge favour on Sunday, and given how erratic – at least in comparison to Xavi's side – Los Blancos have been in LaLiga, they need a few more boosts yet.
In fact, the aforementioned inconsistency that's blighted Madrid in the league since the October Clasico has meant they've been continuously hoping for the smaller clubs to be a banana skin for the leaders. Before Almeria, only Espanyol had obliged.
Now, Madrid have the opportunity to take matters into their own hands, potentially putting two trophies within their grasp.
It's all well and good Madrid waiting and hoping for other teams to give them a helping hand and derail Barca while they stumble every few weeks, but they're the side best equipped to aid their own ambitions.
Barca haven't lost three in a row across all competitions since April 2016 – inflicting a seven-year low on their bitter rivals would be an emphatic reminder that Madrid are still there, fighting on both fronts in the Copa and LaLiga.
Three editions of Spanish football's biggest game look set to be decisive in one way or another.
For Madrid, these matches will likely dictate whether 2022-23 is a success or not.
Tags