FIFA releases footage and stands by decision over controversial Japan goal
John Skilbeck
Stats Perform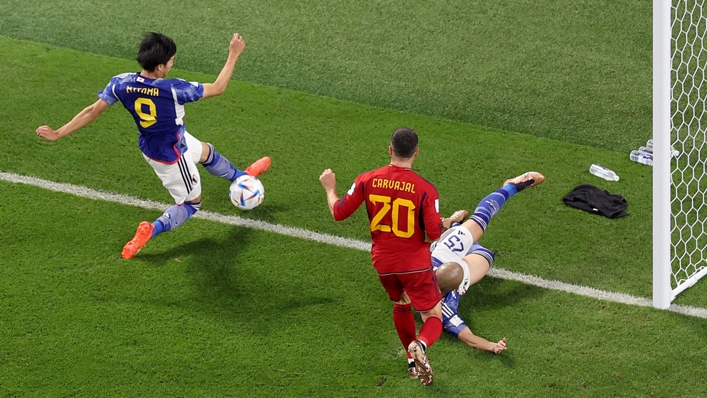 FIFA has defended the VAR verdict that saw Japan score a controversial goal against Spain, knocking Germany out of the World Cup in the process.
The video assistant referee ruled there was nothing wrong with Japan's winner in Thursday's game, scored by Ao Tanaka.
Television replays cast some doubt on that decision, with Kaoru Mitoma crossing from a position where, from certain angles, the ball looked to have run off the pitch.
Tanaka bundled the ball over the line, and a drawn-out VAR review ruled Brighton and Hove Albion player Mitoma had kept the ball in play.
On Friday, FIFA blamed "misleading images" for appearing to point to the ball having fully left the boundaries of the pitch.
The world governing body insisted its VAR integrity was as watertight as could be, with the video evidence it presented showing the whole of the ball had not crossed the dead-ball line, even though almost all of it had.
Such replays had been a long time in coming, critics said, with a number of broadcast pundits questioning on Thursday why such forensic images were not shown during the game coverage, if they were made available to the VAR.
FIFA's statement, issued on Twitter, read: "Japan's second goal in their 2-1 win over Spain was checked by VAR to determine if the ball had gone out of play. The video match officials used the goal line camera images to check if the ball was still partially on the line or not.
"Other cameras may offer misleading images but on the evidence available, the whole of the ball was not out of play."
The outcome of the game means Spain go forward to face Morocco in the last-16 stage, while Japan, as Group E winners, will take on Croatia, who were runners-up in Group F.
Four-time champions Germany exited the tournament because of Japan's 2-1 win, with their own 4-2 success over Costa Rica proving nothing more than a consolation.
Tags