Fan attacks Groningen defender Willems in Dutch top-flight game
John Skilbeck
Stats Perform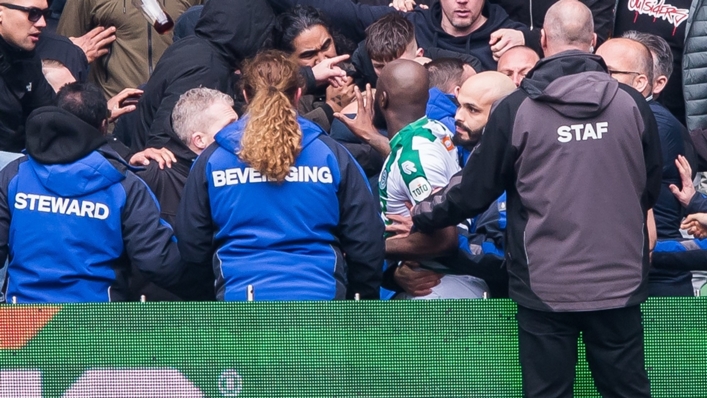 Groningen defender Jetro Willems was punched by one of his own club's fans in an Eredivisie game on Sunday after trouble broke out during their derby defeat to Heerenveen.
The 28-year-old Dutchman went over to an area of the ground where tensions were running high and attempted to calm the home supporters.
Instead, he ended up being struck by one fan who reached over others before taking a swing at Willems, with the shocking incident caught by TV cameras.
Groningen were trailing 2-0 at the time and the game was briefly paused as referee Serdar Gozubuyuk took the players off the field.
They later returned to complete the match, with no further goals scored.
The incident could see Groningen face punishment but former PSV and Newcastle player Willems joked about it after the final whistle, telling Dutch ESPN: "I come from Rotterdam-Zuid; I can take a beating, right?"
He added: "I don't want to say too much about it. Everything gets blown up at some point.
"It is certainly not normal but we will sit down with the club and then you will hear more later or tomorrow."
The game was played with an early kick-off, starting at 12.15pm local time (11.15am GMT), with both goals coming before half-time from Sydney van Hooijdonk.
Groningen forward Elvis Manu reacted with horror to the assault. According to VI.nl, he said: "It's a pitch-black day. This must never happen.
"It's a great pity. One person ruined it for everyone. I think we had the crowd behind us from minute one. We have felt support.
"Too bad something like this happened. Everyone is very emotional but this has no place on the football field."
Tags