Mitrovic hit with eight-match ban for pushing referee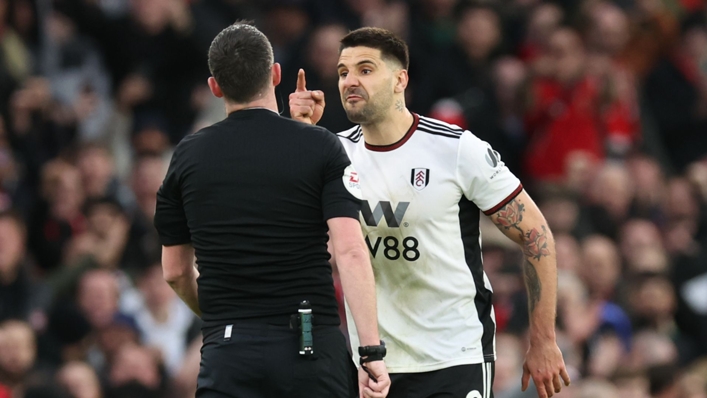 Fulham striker Aleksandar Mitrovic has been given an eight-match ban for grabbing referee Chris Kavanagh during his side's FA Cup quarter-final defeat to Manchester United.
The Serbian striker, 28, had put the Cottagers 1-0 up at Old Trafford but the tie turned when visiting midfielder Willian was dismissed for a handball.
Mitrovic put his hands on the match official when remonstrating the decision and was red carded himself, with Fulham going on to lose the match 3-1.
After an investigation, it has now been determined that the No9 will pay a £75,000 fine and miss eight matches due to his actions, with one of those having already been served.
An FA statement read: "We claimed the standard punishment which would otherwise apply to Aleksandar Mitrovic for the sending-off offence of violent conduct that he committed towards the match referee around the 72nd minute was clearly insufficient.
"The forward denied this, but it was upheld by the Regulatory Commission, and a three-match ban was imposed.
"This is in addition to the three-match ban he had already received for the red card offence.
"The forward separately admitted that his behaviour and language after being sent off was improper, abusive, insulting and threatening, and the Regulatory Commission imposed an additional two-match ban and £75,000 fine.
"In total, the Regulatory Commission has suspended Aleksandar Mitrovic for eight matches.
"One of these has already been served, and therefore the forward will be unavailable for Fulham's next seven matches."
The new extended ban means Mitrovic is unable to feature for the Cottagers until their May 13 clash with Southampton.
Marco Silva has also been handed a £40,000 fine and two-game touchline ban for his comments towards Kavanagh during and after the highly-charged contest.
Though Silva denied throwing a water bottle in the direction of the assistant referee, he admitted all other charges. It means the Portuguese tactician will be in the stands for his side's home clash with West Ham and a trip to Everton.
Fulham have also been fined a further £40,000 for failing to control their players' conduct.
Tags