On The Spot with Isaac Success: Udinese striker reveals all about life in Italy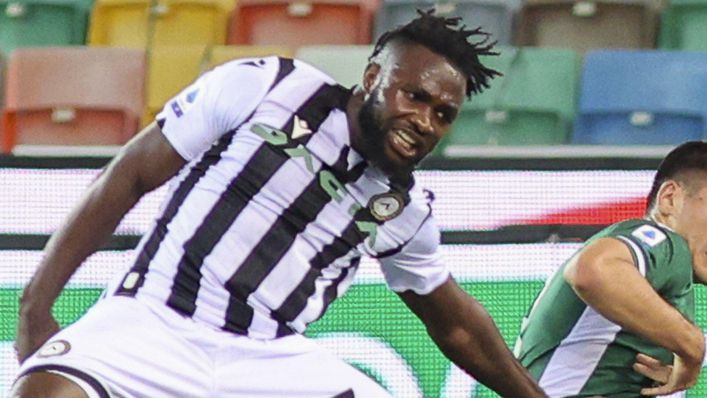 Hi Isaac, thanks for talking to us. It has been three months since you swapped Watford for Udinese. How are you finding it in Italy?
I'm enjoying it. My fitness was good when I started pre-season at Watford. I didn't play in the pre-season games but I was in good condition when I arrived here. And now I have got to know the boys as well as doing well physically.
I can play anywhere up front — on the right, through the middle or on the left — so I think I'm a huge plus to the team. If anyone is injured or unavailable, I can easily slot in at any of those positions.
As a group, I love the mentality here. Every game we want to win. Even when we play against the big sides or good teams, the mentality in this group is amazing.
It has been a mixed start to the season for Udinese but you got a big win against Sassuolo before the international break. Do you think you can move up the league now?
We just want to take each game as it comes. We don't think about the next two or three, we just focus on the next one.
We've had two weeks to prepare. The players that didn't go on international duty were training really hard to keep fit and be ready for the next game [at Torino on Monday].
What are the main differences between Italian football and the Premier League?
In England it's more intense, whereas in Italy it's more tactical.
Sometimes if you don't pay attention in the Italian league, you might lose the game. Sometimes for players it's not easy because you're thinking about playing and at the same time your mind is on tactics.
We just have to concentrate for the whole 90 minutes. If you don't, you can be beaten.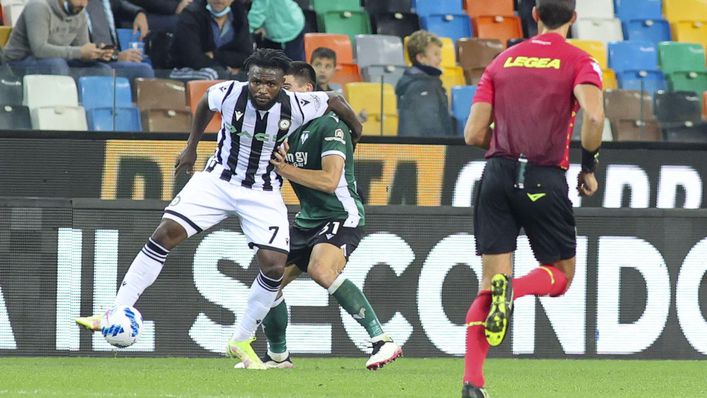 Now you are match fit and getting minutes, what are your targets for the season?
As a striker, if I get a chance I want to score and get the win. But my focus is on helping the team rather than individual performances. If a chance comes, or the chance to get an assist, I always want it. I'm purely focused on helping the team.
It ended up being a difficult five years at Watford as you found yourself in and out of the side. At 25, is this a chance to kickstart your career?
I think I've been doing things right, even when I was at Watford. Maybe I wasn't lucky with a couple of the managers. Of course, they have their own thoughts and I have mine.
I felt like it wasn't meant to be — it wasn't meant for me to work with them. But I'm getting some minutes now. I just want to keep going and improve the team in the best way I can.
You moved to Vicarage Road as a 20-year-old for a club-record fee. Did you find the pressure too great?
Not really because my personality outside of football is that I'm always relaxed. I just want to enjoy the game. There wasn't a lot of pressure when I arrived as the record signing. I wanted to come and compete in a different league. We all know how highly the Premier League is rated compared to the other leagues.
Like I said, it wasn't meant for me to work with the managers that passed through Watford. I definitely made a few mistakes but they [the club] did as well. I had more chances when Javi Gracia was around — I played lots of games under him. It just depends what they really want, the tactics and formation they want to play and if they suit you or not.
Footballers want to play every game but only 11 can start. If you're not picked in the first, second or even third game, you have to manage your mentality to try and be ready in case you have a chance to play.
But it was difficult for me. I was young and I got a bit carried away because I wasn't playing. Now I'm older, I understand how it works and I have to keep working because the chance is going to come.
You mention playing under Javi. His side reached the FA Cup final and you made it on to the pitch at Wembley. Despite the 6-0 defeat to Manchester City, how was the day?
It was a disaster for the whole team! We were really disappointed. Our mentality was that we could win the trophy. We played against a difficult team — an amazing team really, with so much quality. But we were disappointed to lose.
It shouldn't have been six goals but it was a good experience for everyone. The atmosphere was amazing and we had a runners-up medal. It was such a tough game so we were angry but at the same time happy we got to that point.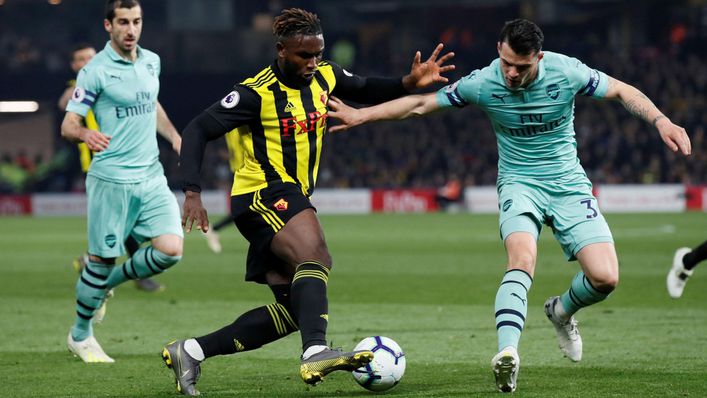 Claudio Ranieri is in the hotseat now. Do you think he can guide Watford to Premier League safety?
I think every manager in the Premier League is always rated highly. But you can never predict it. It's a difficult league and some managers don't get that luck they feel they deserve.
They might have an amazing player who isn't right for them. Sometimes it's all about the timing. It doesn't mean you can criticise any manager if they don't succeed.
I believe Ranieri will do a good job. I really don't know him but the few games I've watched you can see Watford are playing a different style of football.
It is three years since your last international call-up. Injuries have obviously hampered your progress but how desperate are you to break back into Nigeria's squad?
I think every footballer wants to represent their country. That is my aim. Like you said, I've had a couple of injuries that set me back. But it's all about the comeback. That is what I was focusing on every time I was injured or on the sidelines.
Most of the time when I got injured it was because I wasn't really fit. I made mistakes. I got distracted and it happened that way. I'm happy I'm back, fit, training and getting game time. I'm improving every day.
I'm not really 100% focused on breaking into the squad right now. The Africa Cup of Nations is in January so right now I'm focusing on my team and improving. But yes, I would be excited to play again.
After Torino, you face Genoa, who are now managed by Andriy Shevchenko. Did you see much of him as a player and who were your idols growing up?
I always admired Samuel Eto'o. I remember watching Shevchenko in the [2005 Champions League] final against Liverpool. I think the whole world watched that!
He was an amazing striker, dangerous in the 18-yard box and a natural finisher. I admire strikers like that. I have a different style of football, even though I'm good at finishing — though not as good as Shevchenko! He's a legend.
I hope other young players may now look up to me and enjoy my style of play. Hopefully I can become a legend like Shevchenko!
Tags